In this article, we are going to discuss an EU security and verification system called ETIAS. This online system is developing for scanning travelers who do not need a visa to enter the Schengen zone.
ETIAS helps Europe to protect their Schengen borders more strongly from terrorism and immigration violation issues. In short, this approach will help both travelers and the European Travel Authorization to preserve time, get protection, and save money. 
What is ETIAS? – European Travel Information and Authorization System
ETIAS is known as European Travel Information and Authorization System. This system is erect to improve security risks and ease the traveling process for a visa waiver and European citizens. The authorization of visa-exempt country travelers via ETIAS is mandatory at the end of 2022.
It involves complete screening of the travelers before traveling to Europe/Schengen Area. After applying for ETIAS authorization, multiple verification checks will apply on the passenger profile and examine will the specific applicant is scaring for any Schengen area or not. This system also verifies applicant citizenship concerning visa waiver country, background details like criminal activities, and illegal immigration frauds.
European Travel Information and Authorization System is comparable to American ESTA (Electronic System for Travel Authorization). Both systems identify the traveler's status, which is from visa-exempt countries.
Please Note: This system only entertains the Non-EU citizens from the below-mentioned countries. Citizens from non-visa-free countries need to apply for a Schengen visa for traveling Schengen zone.
Which Countries Require ETIAS Authorization Before Traveling Europe/Schengen Zone?
Here is the list of all 60 countries those citizens need ETIAS verification before entering the Schengen Area of Europe.
Albania

Antigua and Barbuda

Argentina

Australia

Bahamas

Barbados

Bosnia and Herzegovina

Brazil

Brunei

Canada

Chile

Colombia

Costa Rica

Dominica

El Salvador

Georgia

Grenada

Guatemala

Honduras

Hong Kong

Israel

Japan

Kiribati

Macao

Macedonia

Malaysia

Marshall Islands

Mauritius

Mexico

Micronesia

Moldova

Montenegro

New Zealand

Nicaragua

Palau

Panama

Paraguay

Peru

Saint Kitts and Nevis

Saint Lucia

Saint Vincent

Samoa

Serbia

Seychelles

Singapore

Solomon Islands

South Korea

Taiwan

Timor Leste

Tonga

Trinidad and Tobago

Tuvalu

Ukraine

United Arab Emirates

United Kingdom

United States of America

Uruguay

Vanuatu

Venezuela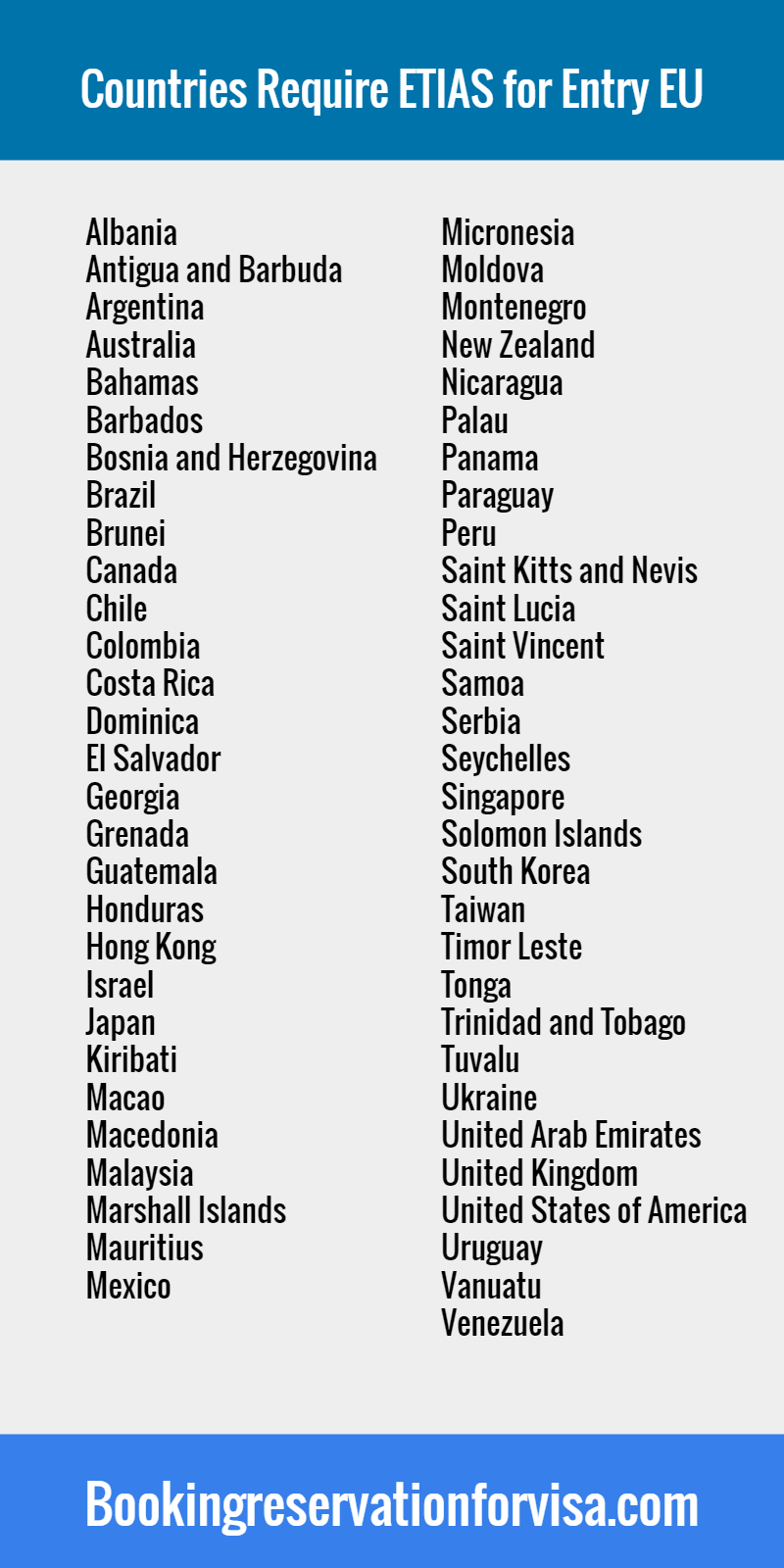 What Are The Countries Which Accept ETIAS Authorization for Entry?
The following list represents all countries for which visa-exempt foreigners need ETIAS Authorization for landing inside.
Austria

Belgium

Luxembourg

Netherlands

Germany

France

Spain

Portugal

Sweden

Finland

Denmark

Lithuania

Latvia

San Marino

Estonia

Poland

Slovakia

Hungary

Slovenia

Italy

Greece

Czech Republic

Malta

Monaco

Liechtenstein

Iceland

Norway

Switzerland

Vatican City

Andorra
Why ETIAS Verification Necessary Before Travelling to Europe?
As we already mentioned, this system makes sure that the traveler is not involved in any suspicious activities, does not threaten any Schengen area, and the applicant's citizenship is eligible for ETIAS entry.
Besides protecting both travelers and European Travel Commission (ETC), they have the following ultimate benefits.
Save application processing time

Discard irregular migration

Enhance Europe borders control

Detecting traveler criminal and illegal activities

Strengthen EU traveling policies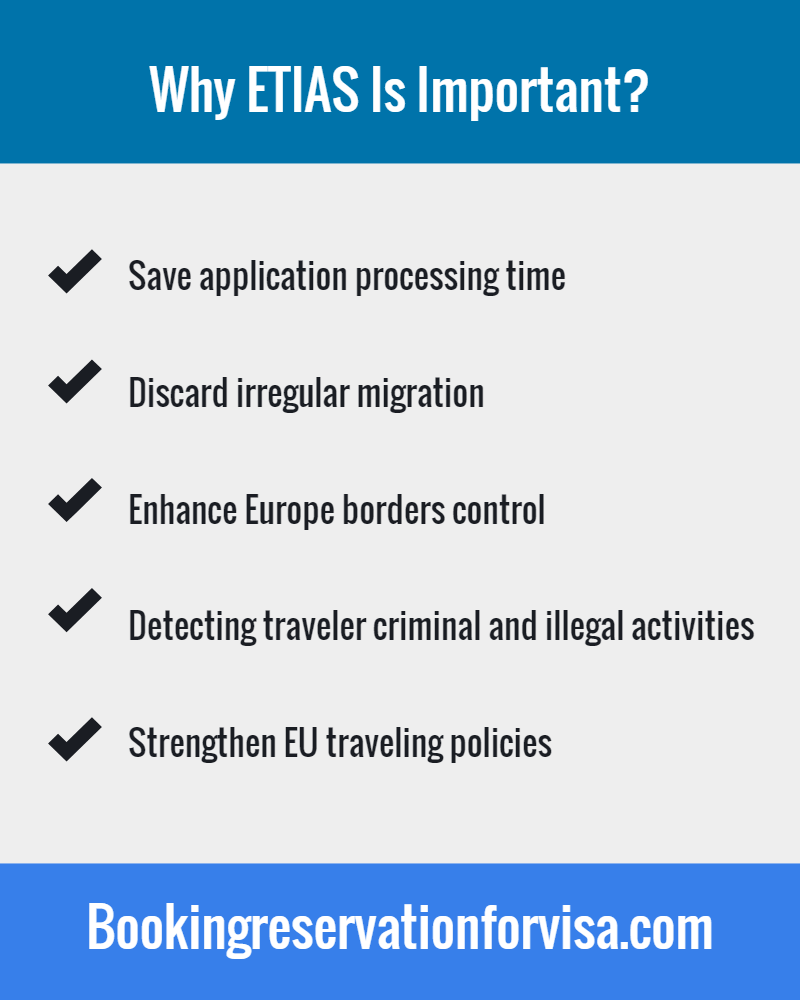 What Are the Basic Requirements for ETIAS Authorization?
If you want to travel Schengen zone and belongs to above mention 60 visa-free countries, then you will apply for ETIAS Authorization with the following requirements. 
Valid passport with validity of 3 months from the date of arrival

Availability of Credit or Debit card for paying fee

Operational Email Address
Applicants bio details:
First & Last name of the applicant

Nickname

Date of birth

Place of birth

Country of birth

Gender

Nationality
European Travel Information and Authorization System will need some more additional information during the processing of your application.
Passport number

Issuance and termination date

Other passport details

Details of first destined Schengen country

Education & Work details
ETIAS Work Flow
Here are the processes which show the ETIAS workflow:
Check visa-exempt country eligibility.

Submit ETIAS online application.

Pay €7 fee for ETIAS application via credit/debit card.

Your application processing starts(Identity verification, verifying travel documents, and background answers/questions survey).

Wait for an email response from the concern department.

If the application is accepted, arrange your transport for traveling(Air, Land, and Sea).

Cross the Schengen border after the final border officer verification.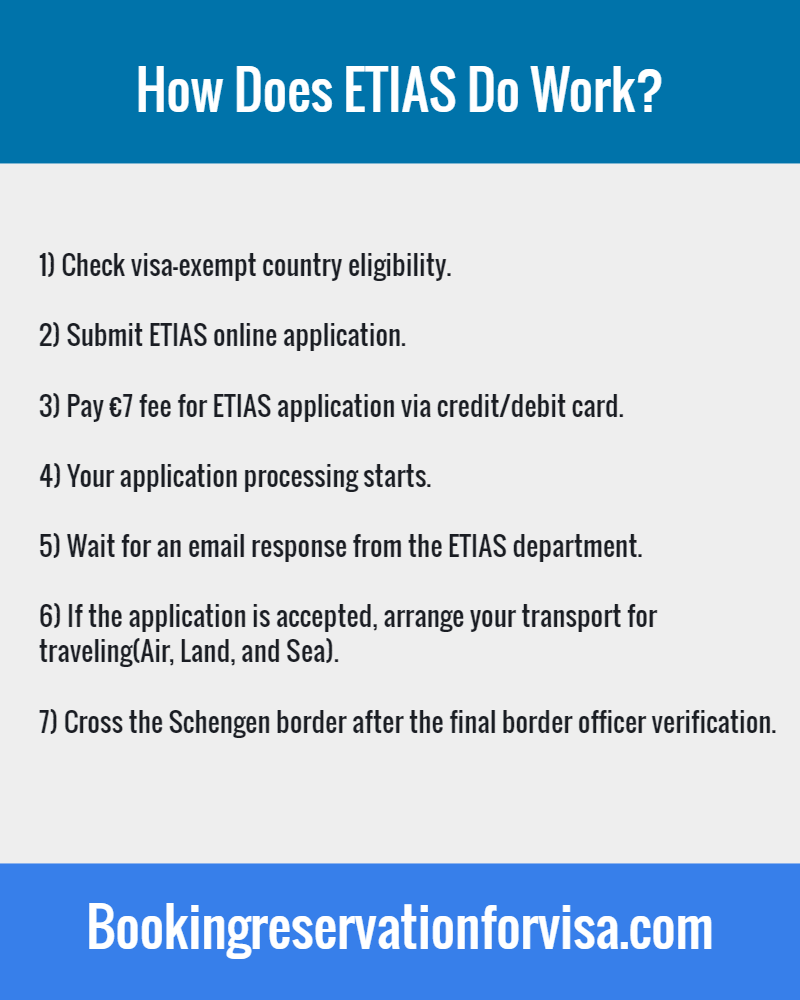 What Is The Fee of ETIAS Authorization?
The application fee of the European Travel Information and Authorization System over 18 years is €7, and there is no fee for under 18 years applicant. You can pay this fee using your credit or debit card.
How Long is ETIAS Valid?
ETIAS is valid for up to 3 years and until your travel documents(passport and transport tickets) are not expired.
When Will ETIAS Start Working?
The official date announced by the European travel commission is January 1, 2022, but it might be fully operational at the end of 2022.