You will find this ultimate document to book a flight itinerary for travel and any visa application. In this article, we are going to discuss most frequently inside brains questions concerning flight itineraries.
After reading this ultimate guide, you will ready to reserve a verifiable flight reservation for your visa application in just 60 minutes. 
If you want to save your money and time, we request you read this article thoroughly. We take grantee it will make to you capable of fulfilling flight itinerary requirement for visa application.
This article gives complete knowledge to get visa reservations for any country. You will find this article helpful if you are looking for a flight reservation in Nigeria, the Philippines, Turkey, India, the UK, Canada, or any other destination country.
We publish this guide because we think that you will know some facts before flight reservation booking, we have believed that if someone spends they hard to earn money, they will collect quality if product. So, you need to develop yourself about the flight reservation before going to apply for the visa.
What Is Meant By Flight Itinerary?
A flight itinerary is a reserve document that has all details of any advance flight. It will include the following information about the proposed flight:
Traveler First/Last Name.

Booking Reference Number(6 Digits PNR).

Airline Name.

Departure and Arrival Cities(With Dates).

Airports Name.

Date of Document Issued.

Information for Equipment.

Stop/Non-stop.

Meal Details(If Applicable).
Please ensure that the above details will vary according to your service providers. Not all documents have all the above elements so, please don't worry. 
Flight Itinerary Samples: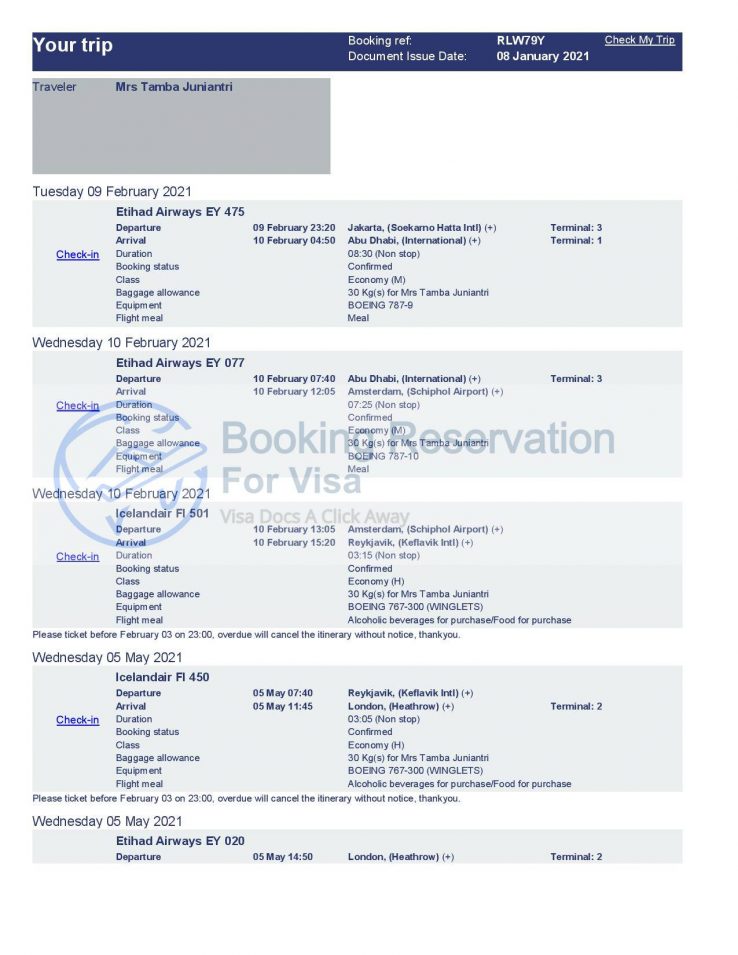 Is There Any Difference Between Flight Reservation and Flight Ticket?
Most people are confused between both, and they think that both are the same. But generally, a flight itinerary is just a reservation of an upcoming flight. If you need to travel with a particular flight reservation, you need to convert it into a ticket first.
A flight ticket has the following elements:
Passenger Full Name.

Ticket Number with three Digits airline code.

Airline Name.

Flight Class(Economy, Bussiness, etc.).

Luggage Information.

Fare and Taxes.

Destination/Arrival Cities Name.

Dates of Arrival and Departure.

Airports Name.

Details About Total Cost and Refund(Form of Payment).

Date of Document Issued.

Meal Details(If Applicable).
Flight Ticket Samples:
Where can utilize a flight itinerary instead of a flight ticket?
There are some foremost factors for which we can use flight itinerary mostly:
Use For Visa Application Purposes:
The abstraction of flight itineraries arises when embassies/consulates allow submitting flight itinerary along with application documents. A long time before, it was mandatory to attach an actual ticket with a visa application. Otherwise, the embassy has rejected the application, but now it is very convenient to utilize a flight booking instead of a ticket.
Use For Travel Purposes:
Sometimes we need to show the details of our route to our friends, family, and colleagues. It is impossible to purchase an actual flight ticket by spending an amount and show it to them, then we book a flight reservation and plainly shows all routes details to them. 
For Reserve Desirable Flight:
The fares of the flights change daily but, you want to hold a desirable flight for your trip. The airline facilitates you by providing a booking that is called a flight itinerary. You can convert a flight reservation/itinerary into a ticket on the same fares when you reserved it. Please keep in mind that you can transmute your reservation in a minimum of 48 hours or a maximum of 72 hours.
Why Flight Itinerary More Suitable For My Visa Application?
The word "suitable" is used for the sense of savings. Whether we think that the flight ticket is not suitable for the visa application is the wrong judgment, both will be 100% acceptable for the visa application process, but the reason is money and probability to get the visa. 
Let's suppose you will apply for a visa and submitted a flight ticket along with your documents. Unfortunately, the embassy will reject your visa application for any reason. Then you will lose a significant amount because the cost of the ticket will starts from $400 to $10000(estimated). On the other hand, if you apply for a visa with a flight itinerary and your visa gets rejected, you will lose a tiny amount, which is maybe $10 to 20$.
That is why always recommended to attach a verifiable flight reservation with your visa application.
What Are The Embassies Recommendation Regarding Flight Itinerary?
If you visit the embassy's official websites, you will find that most of them recommend attaching the flight itinerary with your visa application.
There are the following official recommendations for flight itinerary:
European Union Recommends:
"Round trip reservation or itinerary with dates and flight numbers specifying entry and exit from Schengen state. Some Schengen authorities accept the itinerary when applying for the visa but, request the original air ticket when the visa is collected."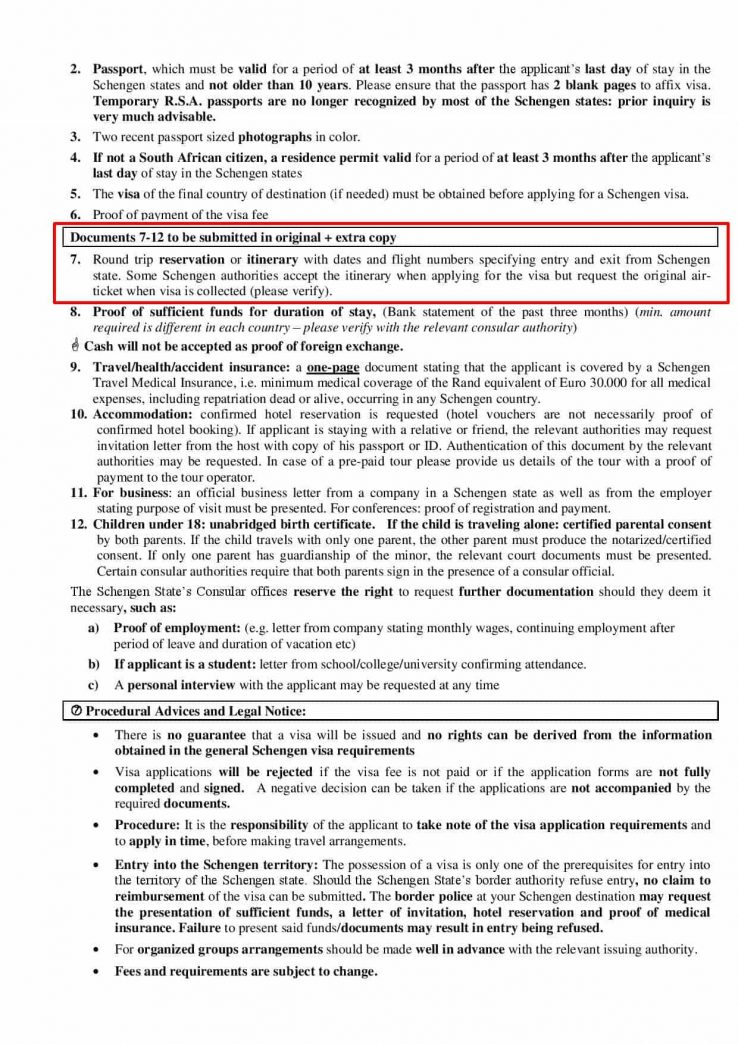 Source Data: Vfsglobal
Ireland Embassy Recommends:
"You should not purchase travel tickets before you receive a decision on your visa application."
Source Data: INIS
Italian Embassy Recommends:
"Round trip ticket/reservation, originating in this jurisdiction to Europe (and ultimately to Italy) and back, including internal entry and exit points of travel i.e. EURO-RAIL tickets, car rental, internal flights. The names on reservations have to reflect the names on passports."
Source Data: Esteri
Can We Call Flight Itinerary With Other Names?
Yes, You can find the same document with different names on the internet. There are the other synonyms of the same:
Flight Reservation.

Flight Itinerary For Visa.

Dummy Ticket For Visa.

Dummy Ticket.

Proof of Travel.

Travel Booking For Visa.

Booking Reservation For Travel.

Flight Confirmation Letter.

Air Travel Reservation.

Flight Booking For Visa
Can I Reserve Flight Tickets Without Pay?
Yes, you can reserve a flight ticket without paying an actual cost for a flight ticket. You can book your flight itinerary for any reputed travel agencies or airlines.
Airlines are engaged to sell flight tickets, so it might be possible you will hard to find flight itineraries from airlines directly. The other ways are available too you will get this from the travel agency or Sub-id Agents. Please make sure before using any travel agencies or agents that they affiliated with the following ticketing systems:
SabreSonic

Galileo GDS

Amadeus

Crane PAX

AeroCRS

Expedia

Agoda
What did I mean By Fake Flight Itinerary?
A fake flight reservation is a document the same as a confirmed flight itinerary but not verifiable online.
Some smart genius brains will try to make freeways, but sometimes in saving little money, they will lose very suspicious things.
There are plenty of scammers available on the internet. Few are free, and some will charge very cheap, but I think your visa process is very complicated or expensive. You should attach a flight reservation with your visa documents by spending a small amount.
Please Note: Whatever service you will use to book a flight itinerary, make sure with a support team that it must be valid for a minimum of 72 hours or a maximum of 14 days. Usually, most of the embassies will take 15 days to proceed with your visa application, So they must find your flight reservation verifiable during the whole period.
Please find the flight reservation as visa rejection reason below: 
How To Get Verifiable Flight Itinerary For Visa Application?
If you finally decided to travel and require a confirmed flight itinerary in 60 minutes for your visa process, Then you need to take the following simple steps:
Use Google to Search 'Booking reservation For Visa'.
or 
Directly go to Bookingreservationforvisa.com.
Select "Flight Reservation" under the Pricing & Plans section.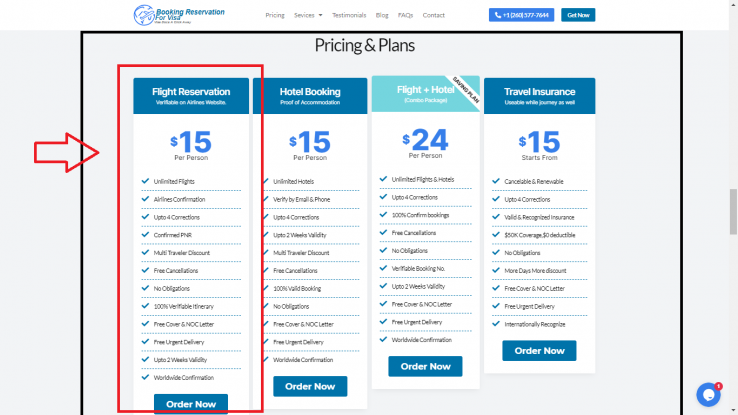 Fill In The Details & Pay.
Get Flight Itinanry at your email in just 60 minutes.
What Is The Validity Time of Our Flight Itinerary?
The most commonly asked question from our valuable clients that for how long your flight itinerary valid?
As we are affiliate with the International Air Transport Association(IATA), So the reservation makes from our system will be the valid minimum for 72 hours or a maximum of 14 days.
Please Note: In rare cases, if you will not find your flight reservation status online, please contact us on live chat, we make a new flight reservation instantly for you.
Will Your Flight Itinerary Directly Verifiable for Airline?
Yes, As I stated that we are IATA certified, so you can verify your flight itinerary status online via the airline website. Our flight itinerary has IATA Six-Digits PNR(Booking Reference No.). You can use this code to check your status online.
You need to follow these steps to find your flight status:
Go to Google and Search "[Airline Name]+manage booking".
In this demo, we are using Qatar Airways to verify the flight reservation. You need to follow according to your mentioned airline. So, in this case, we write like "Qatar Airways Manage Booking".
Provide your six-digit booking reference number along with your last name: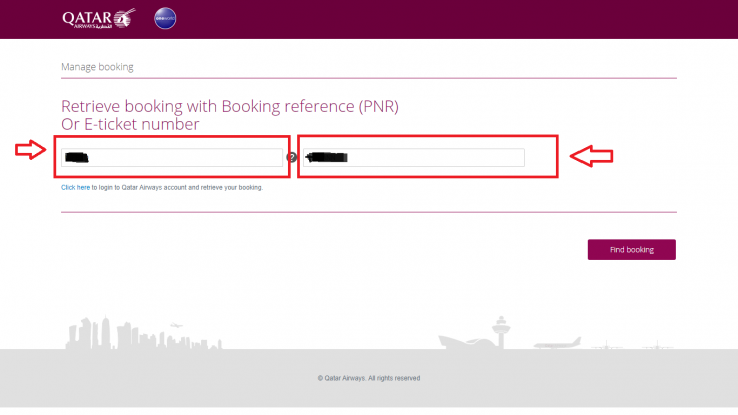 If you have a verifiable flight booking for visa, you will find the status. Otherwise, get an error: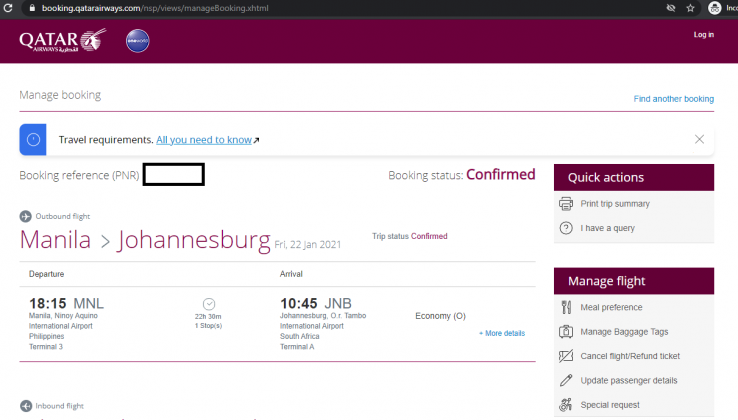 Will BRFV, Secure & Safe For Reserving Flight Itinerary?
Yes, as we are a USA-Based travel company. We struggle to provide visa reservation services to our customers with authentication and validation.
Our valuable customers rate us excellent, as you can see on Trustpilot reviews:
Will I Get Flight Itinerary For Free?
Yes, you can get a free flight itinerary from us, you need to ask for a free coupon via email or chat, and requesting an expedient account after that, you can use our special discounts and you may sometimes get a free flight reservation for your visa application.
Please Note: Mostly we provide free services to our valued regular customers, So it is highly recommended to use our services for getting visa reservations like flight reservation, hotel booking, and travel insurance.
Will BRFV, Provide Discounts To Customers?
Yes, we are arranging many promotions and discounts for our valuable customers daily. We also offer bulk bookings for agents relatively at a low cost.
Our system will automatically generate discounts for our regular customers at the time of checkout.
Why Its Important to Submit Flight Itinerary for Visa Application?
Embassies or consulates must ensure that the applicant has valid proof of travel(Flight Itinanry) when he/she appears for the visa interview.
There are the following reasons which make this document predominant for the embassy:
It will prevent visa overstaying issues:
Look, every country makes mechanism track to foreigns, and makes sure no one tries to overstay in a destined country illegally. The presence of this flight confirmation letter kills the doubt of overstay. As the departure and return, dates are mention on that document, which satisfied the visa officer that the applicant will come back to his/her home country on the mentioned return date.
It helps to estimate the total numbers of days to stay:
Flight reservation also helps the visa officer to approve a visa for specific numbers of days that is mention on the reservation.
It will also help them to the penalized applicant visa application because they effortlessly find out the stay days will not match the visa application form and travel itinerary. 
It Helps the visa officer to find out you will apply in the correct embassy:
As the flight itinerary shows all routes, it will be more convenient for the visa officer to track out will the applicant apply in the right consulate or embassy. It is necessary to submit your application at the right Schengen embassy for starting visa processing.
Which Is Best A One Way Or Round Trip Flight Itinerary For My Visa Application?
The purpose of this flight reservation is to track the applicant's total days of stay in the destined country. So, that is why Round-Trip is more recommended. If you attach a one-way flight itinerary, the visa officer did not find your return dates, and for some doubt, he/she will reject your visa application.
Will BRFV, Provide Hotel Booking For My Visa Application?
Yes, as we are the one place for all visa supporting documents, we also provide valid proof of accommodation(Hotel Booking). Like flight reservations, our hotel bookings are also verifiable via phone call or email.
If you are interested to know more about our Hotel Booking, please use this link.