As a Philippines national, if you want to travel to Germany(short-stay visa 90 days), you will need to apply for a Germany Schengen visa from the Philippines. 
In this article, you will get appropriate simple steps on how to apply for a Germany Schengen visa from the Philippines?, what are the required documents for a german visa application, and how you can book your visa appointment for getting a german Schengen visa from the Philippines.
As per statistics for European Union, Germany Schengen visa acceptance pace for Filipinos is much significant. According to the latest three years of statistics, it is clear that the german visa application approval rate for Filipinos is more than 90 percent. It will become 100% if you submit a German visa application explicitly and decently.
| | | | | | | | |
| --- | --- | --- | --- | --- | --- | --- | --- |
| Years | Schengen State | Country | Consulate | Number of Visa Applications | Visas Issued | Visas Denied | Not issued rate for uniform visas |
| 2020 | Germany | PHILIPPINES | MANILA | 5,504 | 5,043 | 461 | 8.38% |
| 2019 | Germany | PHILIPPINES | MANILA | 20,657 | 18,185 | 2,470 | 11.96% |
| 2018 | Germany | PHILIPPINES | MANILA | 18,829 | 16,883 | 1,939 | 10.30% |
Types of German Schengen Visa From Philippines:
Here are the following types of German visas, you can choose anyone according to your trip purpose.
German Tourist or Visitor Visa

German Business Visa

German Airport Transit Visa

German Training Visa

German Language Short Course Visa

Visa for the Recognition of Professional Qualifications

German Trade Fair & Exhibitions Visa

German Visa for Cultural, Film Crew, Sports, and Religious Event Purpose

German Visa for Spouse / Relatives of EU / German Nationals
List of Required Documents for German Visa Application From Philippines:
Find the checklist of all required documents, which you will need before the visa appointment.
Germany Visa Application Form: 

It must be signed and online filled.

Your Passport:

 Must be valid for three months after your Germany trip is completed, not older than ten years. It must have two blank pages.

Evidence of work/business in the Philippines:

 This includes bank statements with the latest six months of salaries and business transactions(if applicable).

Two Passport Size Photographs: 

Must be 35X45mm in size. Find out photographs requirements from here.
A Cover Letter:

 Explain why you are visiting Germany?. and provide further details of your trip.

Flight Booking reservation: 

It must have Germany going and return dates

.

Travel Medical Insurance:

 It must support coverage of 30000 Euro and must cover the Schengen region.   

Proof of Civil Status:

 This could be a marriage certificate, birth certificate of children, death certificate of spouse, etc.

Hotel Booking:

 The actual proof of residence after landing in Germany.

Proof of Sufficient Funds:

 This shows you have sufficient funds to complete the trip

Payable Slip of Visa Fee:

 Read how much it will cost you from here.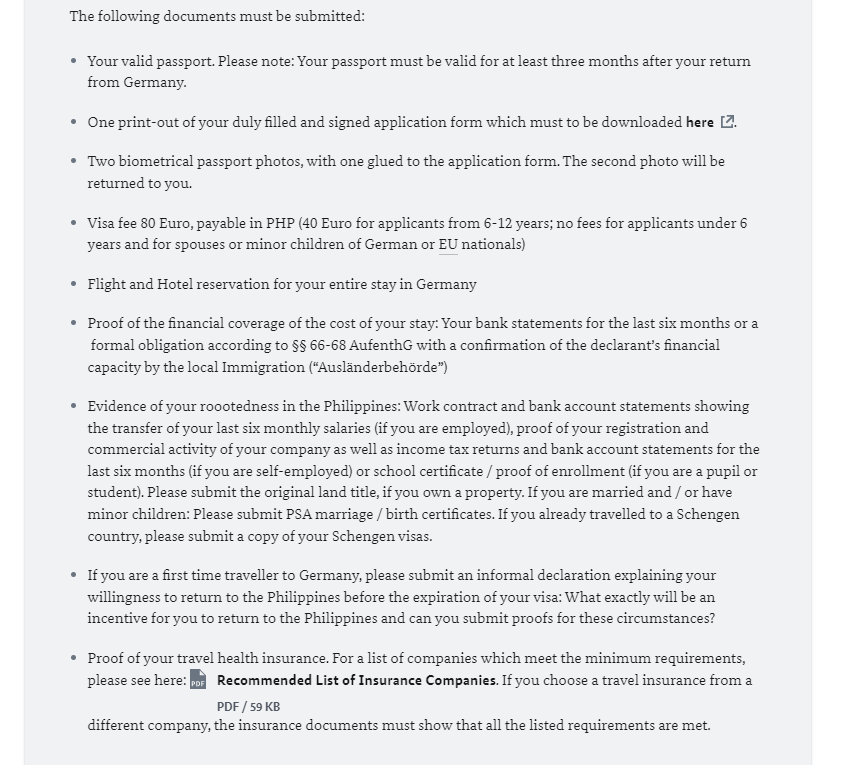 Data Source: manila.diplo.de
Steps & Guidelines To Apply for Germany Schengen Visa From Philippines:
Here are the following steps for submitting a german visa application and booking a visa appointment.
1) Go to the vfsglobal official website and scroll down to the step-by-step guide section.
2) Choose your German visa type
In this step, you need to select visa type with respect to your travel purpose. After that, you will get all visa requirements like required documents, visa fees, and processing time. 
This step will give you information like what documents your will need to arrange, visa fees, and other details regarding specific visa types.
3) Starts your visa application procedure
The first step is to fill online visa application form for a German visa. You can open the form from here.
Once you fill and download the german visa application form, you need to sign it and place it with other required documents.
4) Book your visa appointment
After filling in the form, you need to book a visa appointment for a german visa at your nearest Visa Application Center. You can book your visa appointment using this link.
5) Pay your visa application fee
You will be paid the application fee during the online application submission by card payment. If you are applying directly to the Visa Application Center, then bring it with you.
6) Attend visa appointment at VAC
Visit the visa application center on a scheduled date and submit your visa application in person.
Read what do you do at VAC from here.
7) Track your german visa application 
If you submit your visa application via vfsglobal, you can track your visa application using this link.
8) Collect your passport
After the decision is made by the embassy, you will receive your passport by courier(if paid for any). Otherwise, you need to visit VAC to collect your passport and documents.