Getting a Schengen visa for the Netherlands is not an easy task, but after reading this article, we accomplish you will apply for a Netherlands visa application by yourself. In this article, you will get Netherlands visa application requirements in the most appropriate way that embassies or consulates demand with you.
To proceeding your Netherlands Schengen visa application, you need to first select a visa type according to your travel purpose. You may apply for Visit, study, business, or medical Netherlands visa, afterward need to figure out the exact Netherlands visa application requirements for your selected visa type and submit the application to the Netherlands embassy.
Since 14 June 1985, when the Netherlands signed the Schengen agreement, extensive applications are registered for Netherlands Schengen visas every year. According to European Union statistics, the Netherlands visa application approval rate is more than 80%, but it is essential to apply carefully and accurately.
| | | | | | | | |
| --- | --- | --- | --- | --- | --- | --- | --- |
| Years | SUM of Uniform visas applied for | SUM of Total uniform visas issued (including MEV) | SUM of Multiple entry uniform visas (MEVs) issued | SUM of Total LTVs issued | SUM of Uniform visas not issued | Not issued rate for uniform visas | Share of MEVs |
| 2020 | 169,926 | 137,655 | 89,918 | 842 | 27,921 | 16.8% | 65.3% |
| 2019 | 739,248 | 630,181 | 540,790 | 2,065 | 96,861 | 13.1% | 85.8% |
| 2018 | 682,382 | 582,344 | 459,448 | 5,441 | 86,123 | 13.0% | 78.9% |

In this reading, you will find comprehensive Netherlands visa application requirements, knowing about required documents for Netherlands visa, types of Netherlands visa, and how to apply/submit Netherlands Schengen visa application? 
What are the types of Netherlands Visas?
Please select the suitable Netherlands visa type according to your travel plan.
Netherlands Business Visa.

Netherlands Visa for Student.

Netherlands Airport Transit Visa.

Netherlands Tourist / Visit Visa.

Netherlands Medical Visa.

Netherlands Visa for Official Delegation.

Netherlands Citizens Husband/Wife Visa.

Netherlands Visa for Cultural, Sports, Film Crew, or Religious Purposes.

Netherlands Visa for Children.
Required documents for the Netherlands Visa application:
You must need to attach the following required documents with your Netherlands Schengen visa application.
Your Passport:

 Must be valid for three months after your Netherlands trip is completed, not older than ten years. It must have two blank pages.

Two Passport Size Photographs: 

Must be 35X45mm in size.

A Cover Letter:

 Explain why you are visiting the Netherlands?. and provide further details of your trip.

 Flight Booking reservation: 

It must have the Netherlands going and return dates

.

Travel Medical Insurance:

 It must support coverage of 30000 Euro and must cover the Schengen region.   

Proof of Civil Status:

 This could be a marriage certificate, birth certificate of children, death certificate of spouse, etc.

Hotel Booking:

 The actual proof of residence after landing in the Netherlands.

Proof of Sufficient Funds:

 This shows you have sufficient funds to complete the trip.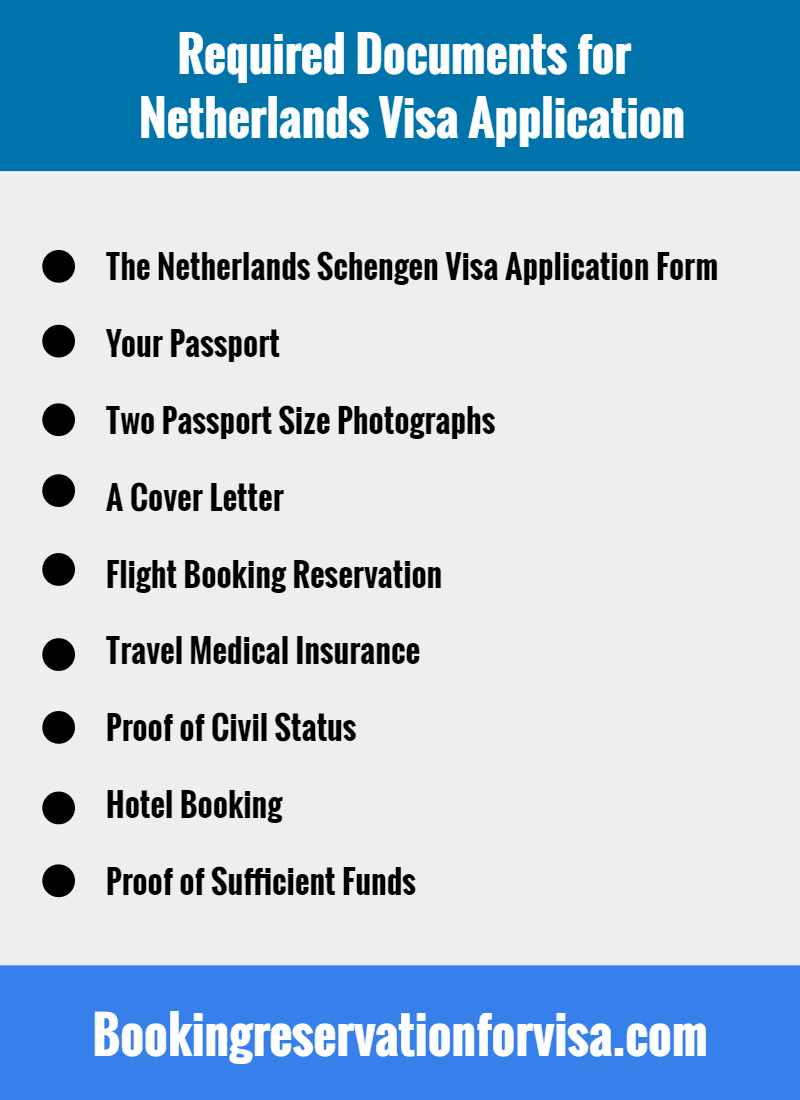 Required documents for Work-Based Netherlands Visa:
To requiring a Netherlands visa, you need to attach the following documents with your visa application according to your working status.
If an employed:
Bank statement for the latest Six months

Employment contract

Income tax return (ITR)
If a self-employed:
Income tax return (ITR)

Business license

Company bank statement of latest 6 months
If a student:
Evidence of enrollment

Confirmation letter from university or college

No objection letter
If a retired person:
Latest 6 months pension history
If applicable:
Proof of regular income generated by the property for the latest 6 months
Please Note: All documents must deliver by hand or use any genuine service providers to deliver them. If the Netherlands embassy did not get any required documents, then you may get a visa rejection.
Most common types of Netherlands Visas additional documents:
Here we create a list of additional documents for the most commonly used Netherlands visas. You can attach the below mention documents for improving visa approval chance.
Additional documents for Netherlands Visit / Tourist Schengen Visa:
An Invitation Letter – from your Netherlands family, friends, and spouse.

6 months latest bank statement

Proof of sufficient financial funds

All passport copies

The paper that proves your relationship with the person living in the Netherlands(Sponsor)
Additional documents for Netherlands Official Delegations Schengen Visa:
The official invitation letter

Identity documents of the applicant

Reason of the trip (negotiations, meetings, events by intergovernmental organizations, consultations)

Proof of accommodation in the Netherlands

Duration of trip & details
Additional documents for Netherlands Husband / Wife Visa:
Dutch marriage certificate

Dutch family history

Dutch citizenship proof
Additional documents for Dutch Study Visa:
University enrollment certificate from the Netherlands university/college

Proof of sufficient funds

Approval Letter from the Netherlands institute

Courses completion letter
Additional documents for Netherlands Airport Transit Schengen Visa:
Visa of the destined country

Valid Passport

Entry documents and an actual flight ticket for the destinated country
Additional documents for Dutch Business Visa:
An invitation letter from the Dutch

 

company

Employer permission letter that allows you to travel to the Netherlands

Certified copy of the article of association

Trade License

Mean of subsistence

Sponsorship details must be mention inside the invitation letter
Additional required documents for Netherlands Medical Schengen Visa:
Payment receipt of medical fees

A local medical report

Medical attestation from the Netherlands

 

hospital/doctor.

Appointment letter
Netherlands Visa documents for Sports, Cultural, Religious, or Film Crew Purposes:
Complete crew list

Invitation letter from the Dutch

 

contest organizer

Entry Tickets

Duration of stay

Evidence of previous performances
Additional documents for Netherlands Children Schengen Visa:
Birth certificate

Application form sign by both parents

Parental travel consent form –

 if any parent lives in another country

Parents income Proof

Attested Travel permission letter from parents

Both parents Passport or identification documents
How to apply for a Netherlands Schengen Visa?
Search where you need to submit for Netherlands Visa application(Netherlands Embassy / VFS Services)

Select the type of Netherlands visa for which you want to apply

Fill the application form

Attach all required documents 

Book your visa appointment at the Netherlands embassy or consulate

Attend the interview 

Wait for the final result
Can I apply for a Netherlands Visa Extention?
 You can appeal for a Netherlands Schengen visa extension, but the extension is rare and only given if any changes will add after landing in the Netherlands.
How to get a dummy flight ticket for the Dutch Schengen Visa Application?
You can book a verifiable dummy flight ticket from the following link.
How to get a hotel booking for the Netherlands Schengen Visa Application?
You can get a confirmed hotel booking for a Netherlands visa by using this link.