If you are interested in travel Finland for a visit, tour, business, or study, you need to first apply for a Finland Schengen visa. If you want to apply for a Finland visa, you will need to know the Finland Schengen visa requirements and application process for a Finland visa.
This article is the ultimate guide for collecting all predominant information about Finland visa application requirements, required documents, and different types of Finland Schengen visa.
Finland considers the most visited country after signing the Schengen agreement on 19 December 1996. There are bulk of travelers visited Finland every year and apply for numerous types of Finland visa. Here are the latest three years' statistics presented by the European Union, which confer traveler's interest in getting a Finland Schengen visa. 
| | | | | | | | |
| --- | --- | --- | --- | --- | --- | --- | --- |
| Years | SUM of Uniform visas applied for | SUM of Total uniform visas issued (including MEV) | SUM of Multiple entry uniform visas (MEVs) issued | SUM of Total LTVs issued | SUM of Uniform visas not issued | Not issued rate for uniform visas | Share of MEVs |
| 2019 | 895,775 | 875,356 | 789,998 | 2,403 | 16,894 | 1.9% | 90.2% |
| 2018 | 769,049 | 751,358 | 670,112 | 3,052 | 13,439 | 1.7% | 89.2% |
| 2017 | 827,520 | 814,047 | 729,559 | 2,742 | 9,337 | 1.1% | 89.6% |
Data Source: Europa.eu
So, now we start to understand what are the Schengen visa application requirements for Finland, discuss all necessary documents, and how we can apply for a Finland visa.
Gerneral Types of Finland Schengen Visa
There are the following types for which you can apply, select a visa type according to your trip purpose.
Finland Tourist Visa

Finland Visit Visa

Finland Business Purpose Visa

Finland Medical Visa

Finland Visa for Official Delegation

Finland Visa for Study & Research

Finland Airport Transit Visa

Finnish Citizens Husband/Wife Visa

Finland Visa for Cultural, Sports, Film Crew, or Religious Purposes

Finland Visa for Under-age Children
Who Will Need To Get Schengen Visa Before Entering Finland?
You need to get a Schengen visa for Finland if you are from one of them:
Non-Citizen of the Nordic country.

Non-Citizen of the European country.

If you are from the 

attached list

.

If your country signed the Schengen agreement, but you are not allowing to travel.

Non-family member of EU/EAA.

Citizen or Passport holder of 

Third World Country

.

Your Home Country has not 

Signed a Schengen agreement

.
Required Documents for Finland Visa Application:
Here the list of required application documents that you need to get before applying for any Finland visa and Finland VFS Service.
Your passport:

 Must be valid for three months after your trip is ended, not older than ten years. It must have two blank pages.

Two passport size photographs: 

have captured your recent face and with the light background color.

A 

cover letter

:

 Explain why you wish to visit Finland and give further details on your trip.

Round trip flight reservation

: 

If must be with departure or return dates

.

Schengen Travel Health Insurance

:

 It must support coverage of 30000 Euro and must cover the Schengen zone.   

Proof of civil status:

 This could be a marriage certificate, birth certificate of children, death certificate of spouse, etc.

Hotel Booking: 

A valid evidence of accommodation that shows your place of stay after landing in Finland.

Proof of Sufficient Financial Means

:

 Evidence shows that you will put all expenses on your shoulder.
You can also verify the above documents list with "Ministry for Foreign Affairs of Finland":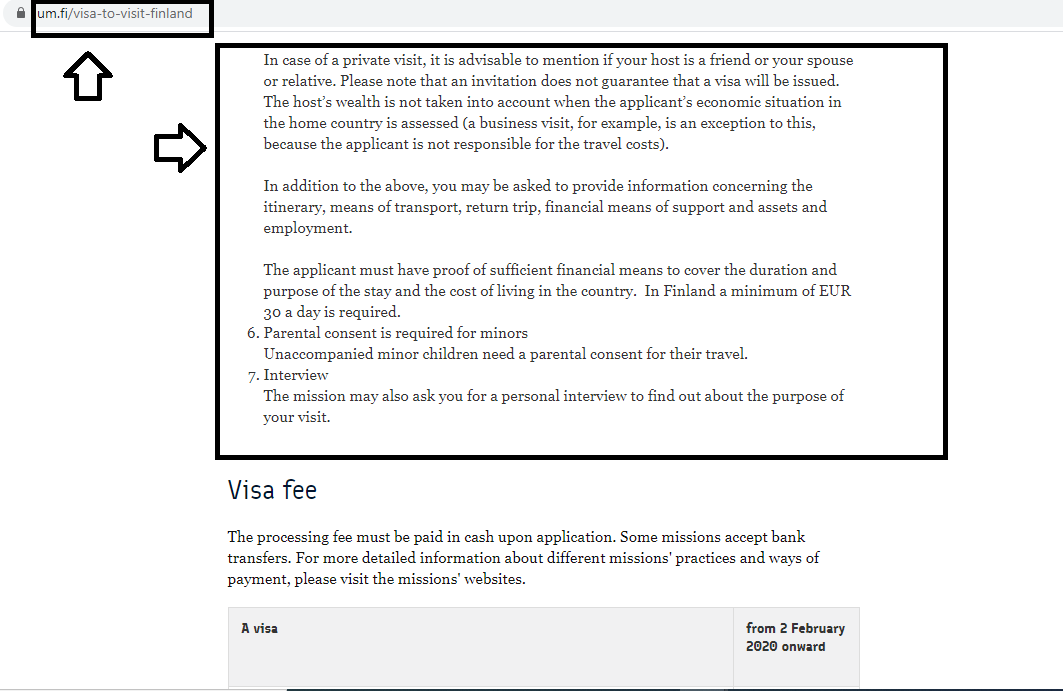 Data Source: um.fi
Finland Schengen Visa Employment-Based Required Documents:
To request a Finland visa, you need to attach the following wanted documents with your visa application according to your professional status. 
If an employee:
Income Tax Return (ITR) form or Declaration of Income Tax.

Employment agreement

Bank statement for the freshest Six months

Source of Salary
If a self-employer:
Company bank statement of the most recent six months

Income Tax Return (ITR)

Business license proof
If a student or researcher:
Evidence of registration

Confirmation letter from university or college.
If a retired person:
Freshest six months pension statement 
If applicable:
Proof of regular income produced by the property for the latest six months
Please Note: All of the preceding documents must submit by hand or use any validated service to deliver to the embassy. If the embassy did not get any required indenture, then you may get visa dismissal.
Additional Documents for Extensively Used Finland Visa Types:
Underneath the following additional documents mentioned, try to get all required documents before submitting the Finland application to the embassy.
Always advised to appending some additional documents to support your visa application. You must choose the required documents according to your travel plan or visa type.
Additional Documents For Finland Visit or Tourist Visa:
An invitation letter – from your family, friends, and spouse.

Detailed Itinerary.

Six months of Bank statement.
Additional Documents for Finland Business Visa:
Previous Trade relationship letter.

Trade License

Mean of subsistence

Business bank statement of last six months.

An invitation letter from the Finnish company.

Leaving permission certificate from the company.

Article of Association.
Finland Visa Additional Documents for Official Delegations:
The official invitation letter.

Duration of stay

Hotel Booking

Identity documents of the applicant

Proof for the trip (negotiations, meetings, event by intergovernmental organizations, consultations).
Finnish Citizen Husband/Wife Additional Visa Documents:
Finland marriage certificate.

Finnish family history book.

Finland citizenship proof.
Additional Documents For Finland Airport Transit Visa:
An original valid visa.

Entry endorsement documents or an actual flight ticket for the destined country.
Additional Documents For Study, Training, or Research Purposes:
University enrollment certificate from Finnish university /college.

Mean of Subsistence – A letter which explains how you will comprise study expenses.

Acceptance Letter.
Finland Under-Age Visa Additional Documents:
Parental travel consent form:

 from another country living parent.

Parents income Proof.

Travel permission letter from parents.
Please Note: Parents or guardians of under-age children should be available in the embassy or consulate at the time of the visa officer verification or processing.
Additional Required Documents for Finland Medical Visa:
Payment receipt of medical fees.

A medical report.

Medical attestation from the Finland hospital or doctor.
Finland Visa Documents for Sports, Cultural, Religious, or Film Crew Purposes:
Complete List of Crew members.

Invitation letter from the event organizer or higher authorities in Finland.

Flight Reservation/Flight Itinerary.

Duration of stay.
How Can I Apply For Finland Schengen Visa?
You need to follow the below steps to applying for a Finland short-stay visa:
You need to confirm where you need to apply.

Select the Finland visa type according to your travel purpose.

Prepare all required documents for the Finland Schengen visa application.

Make a visa appointment with the Finland Embassy or Consulate from your home country.

Attend the visa interview at the relevant Finland Embassy/Consulate/VAC.
How Can I Get Flight Reservation for Finland Schengen Visa Application?
If you are troubled about how to obtain a verifiable flight itinerary for your Finland visa application? You can book a verifiable flight itinerary from the following link.
How Can I Book Valid Proof of Accormaodation(Hotel Booking) for Finland Schengen Visa?
Always attach a valid Hotel Booking with your Finland visa application. A confirmed hotel booking should be verifiable via hotel administration by phone and email. You can get a firm hotel by using this link.
Can I Apply for Finland  Visa Extention?
The extension is only possible if some visa rules or policy will change after the visa permission. Please keep in mind, your short-stay visa never crossing above 90 days.
Please Note: Must cross-check Finnish Schengen visa requirements from the embassy or official Finland government websites before submitting the visa application.