It is obligatory to apply Schengen visa for non-UK citizens before travel United Kingdom to France. If you have a British passport or UK citizenship, you can travel to France freely, but if you own foreign status, you need to apply for a French Schengen visa from UK.
So, this article significantly designs for those nationalities who do require a French Schengen visa for travel UK to France. We brighten the complete procedure to apply for a French Schengen visa from UK, about the required documents, and where you can submit a French visa application in the United Kingdom.
According to the European Union statistics summary, it is observable that the French embassy in London receives tremendous applications every year and the rate of French Schengen visa acceptance from UK is almost 97%.
| | | | | | | | |
| --- | --- | --- | --- | --- | --- | --- | --- |
| Years | Schengen State | Country | Consulate | Number of Visa Applications | Visas Issued | Visas Denied | Not issued rate for uniform visas |
| 2020 | France | UNITED KINGDOM | LONDON | 28,938 | 26,217 | 3,576 | 12.00% |
| 2019 | France | UNITED KINGDOM | LONDON | 105,290 | 94,835 | 6,686 | 6.35% |
| 2018 | France | UNITED KINGDOM | LONDON | 126,763 | 124,635 | 1,190 | 0.94% |
Check Do You Require Schengen Visa for France Entry?
If your status in UK contributes to any points (Falls under any single below statement), you should apply for a French Schengen visa from UK.
Foreigners live in the United Kingdom, and their native countries have not yet signed the Schengen agreement with Schengen Zone for visa-free entry.

Foreigners from third-world countries must require a Schengen visa for Europe entry.

British passport holders have restricted France entry without having a Schengen visa.

Those in the United Kingdom on a visit visa should need to apply for a French Schengen visa from their home country.

Foreigners in the UK holding Permanent residency but not yet British citizenship should apply for a Schengen visa.
If you want more investigation concerning do you need a Schengen visa from France visa from the UK or not, please visit the following link.
Types of French Schengen Visa from UK
Here is the list of all French visas for which you can apply, accordingly to the nature of your travel.
French Tourist/Visit Visa

French Business Visa

French Study visa

French Family Visit Visa

French Airport Transit Visa

French Medical visa
If you are looking for more information regarding French Schengen Visas, please use the following embassy webpage link.
Required Documents List for Applying French Schengen Visa from UK
If you acquire a French visa with a 100% success rate, you should arrange the following required documents before presenting a visa interview.
Online French Schengen Visa Application: 

download the application after filling online and keep it with other required documents.

Your Passport:

 Must be valid for three months after your France trip is completed, not older than ten years. It must have two blank pages.

Recent Passport Size Photographs: 

Two recent passport-size pictures in color, 35×45 mm in size. Find more details regarding the Schengen visa photo from here.

Cover Letter (if applicable):

 Explain why you are visiting France? and provide further details of your trip. You can find the best way to write a cover letter for a visa application here.
Flight Reservation: 

It must be with the departure and return locations and dates

.

Travel Medical Insurance:

 It must support coverage of 30000 Euro and must cover all Schengen zone.   

Sponsorship Letter (If applicable): 

Read how to write a Sponsorship letter for a visa application.

Socio-professional situation: 

It can be the employment letter from an employee or the enrolment letter from a university/college that assurance your residency in the United Kingdom.

Proof of Valid Stay:

 The genuine proof of accommodation after landing in France.

Proof of Residency in UK:

 if you are not a citizen of the country where you have a residence (like a residence permit).

Invitation Letter: 

Should be

 

written by an individual or organization that is inviting you to France.

Proof of Sufficient Funds:

 Latest 3 months bank and Credit card statements (UK current account). You can get more details using this link.
Get informed more about the required documents to apply for a French Schengen visa from UK using this link.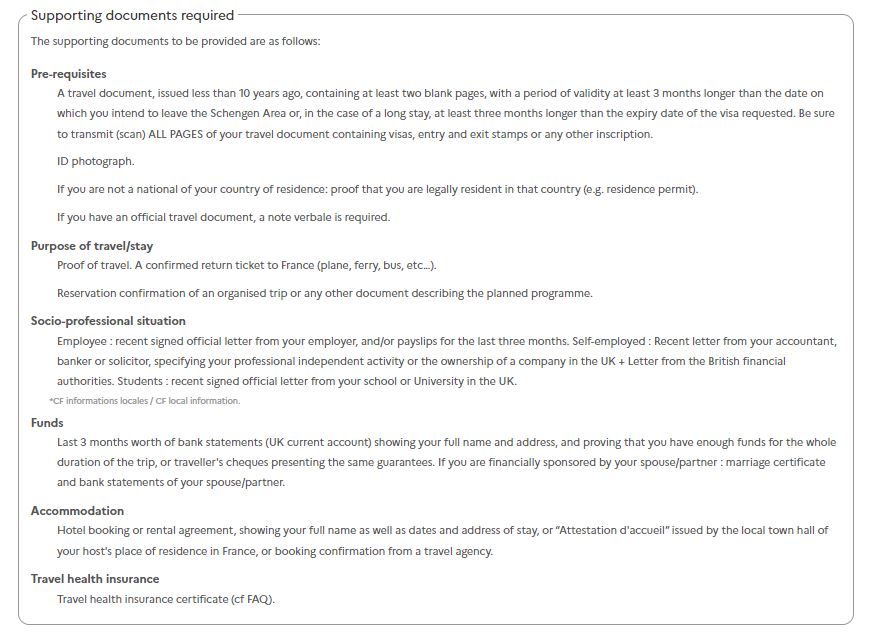 Ultimate Procedure to Apply for French Schengen Visa From UK
Here we propose a step-by-step procedure for submitting a French visa application from the UK. It is a prerequisite to pursuing every step appropriately to get a higher visa approval ratio.
1) Check do you need a visa
First, use the visa wizard application, which has created by the France embassy and helps you to find do you need a Schengen visa for France traveling as well as fees and required documents.
2) Fill up an online French visa application
If you require a French Schengen visa before traveling to France from the UK, you demand to fill out the online application form using this link.
3) Book your visa appointment
In this step, you need to book your French visa appointment from the French consulate in London or TLScontact. You can book your appointment using this link.
4) Visit VAC and submit your file
Here you need to attend a visa appointment on the booked date in person and submit your French visa file with all required documents.
5) Track your French visa application
You can use the following tracking tool to track your visa application processing.
6) Collect your passport
After all processes, including Biometric data capturing and Rectifying the application, you will notice by the embassy regarding acceptance or rejection. After the decision, you will collect your visa in person from the consulate.
French Schengen Visa Charges from UK
Generally, you will be charged 80 euros by the embassy, but if you want more details regarding French visa fees, then please use the following link.
Contact French Consulate General in London, UK
If you have any queries regarding the appointment or visa-related questions, please use the following contact details:
Address:  6a Cromwell Place
SW7 2EN London
United-Kingdom
Email: visas.londres-fslt@diplomatie.gouv.fr