If you are bearing Omani Passport and looking to Travel to Italy, then you need to apply for an Italian Schengen visa from Oman. Our foremost reason for creating this article is how to reduce the load of Italian visa application preparation for the citizens of Oman. They can effortlessly submit the Italian visa application by the complete adoption of this document because we specifically focus on those elements that can help to understand the application procedure from scratch to end.
If you culminate the trip to Italy, then you are at the right place because this article is the step-by-step guide for applying Italian Schengen visa from Oman, about the required documents, and also navigates you to where to submit the visa application. Moreover, we are trying to deliver the trips regarding achieving a 100% visa approval rate and the basic requirements you should follow to save yourself from visa rejection.
Here we also want to share the European Union Statistics, which show the rate of Italian visa acceptance from Muscat is nearly 95%. The cause for conveying the statistics is to provide evidence that if the procedure is to submit the Italian visa application appropriately, then the possibility of Schengen visa approval is explicit for Omanis. 
| | | | | | | | |
| --- | --- | --- | --- | --- | --- | --- | --- |
| Years | Schengen State | Country | Consulate | Number of Visa Applications | Visas Issued | Visas Denied | Not issued rate for uniform visas |
| 2020 | Italy | OMAN | MUSCAT | 467 | 428 | 39 | 8.35% |
| 2019 | Italy | OMAN | MUSCAT | 3,738 | 3,563 | 175 | 4.68% |
| 2018 | Italy | OMAN | MUSCAT | 2,646 | 2,530 | 113 | 4.27% |
Types of Italian Schengen Visa from Oman
Choosing the visa type is the initial step for application setup. So you can select any Italian visa type accordingly to your travel purpose.
Italian Medical Visa

Italian Friends & Family Visit Visa

Italian Airport Transit Visa

Italian Visa for EU/EEA Members

Italian Official Delegations Visa

Italian Family Reunification Visa
You can retrieve more insights into Italian visa types and their requirements from the Italian embassy from this link.
Checklist of Required Documents for Applying Italian Schengen Visa from Oman
Having all required documents is a mandatory and foremost requirement for the approval of a visa application. You should need to arrange the following documents before the Italian visa appointment.
Italian Visa Online Application:

 It should be duly filled out online and signed by the applicant. Keep it with other required documents.

Your Passport:

 Must be valid for more than three months from the intended date of the trip, not older than ten years. It must have two blank pages.

Copies of Previous Passports (if applicable)

2 Photographs: 

Must be passport-size (35×40mm) pictures with a bright color background. Find more details regarding the Schengen visa photo here.

Omani Residence Permit: 

You should submit a copy of the residence permit. It is mandatory if you are a non-Oman national.

Cover Letter (if applicable):

 Explain why you are visiting Italy and provide additional details of your trip. You can find the best way to write a cover letter for a visa application here.
Flight Reservation (round-trip): 

It must be with the departure and return dates and locations

.

Travel Medical Insurance:

 It must support coverage of 30000 Euro and must cover all Schengen zone.   

Sponsorship Letter: 

You can read how to write a Sponsorship letter for a visa application using this link.

Hotel Booking:

 The genuine proof of accommodation after landing in Italy. You can read more about the hotel reservation using this link.

Proof of Socio-Economic Status: 

You can submit a job contract letter that describes your job rank, salary, and joining date. You can submit a business trade letter in the case of a business owner and an enrollment letter from a university/college in the case of study.

Invitation Letter: 

Should be

 

written by an individual or organization that is inviting you to Italy.

Proof of Sufficient Funds: 

3 months of bank and Credit card statements. The available funds should cover the trip duration expenses accordingly to the selected Schengen state per day expense.

No Objection Letter (NOC): 

Stated that your employer or institute has no objection to your leaving and mentioned when you join again.
You can verify the checklist of required documents from the Italian consulate before proceeding with the collection using this link.
Step-by-Step Procedure for Applying Italian Schengen Visa from Oman
As the Italian Consulate of Oman has not entertained the application directly, you need to consider VFS Global as the ultimate source for your Italian visa application submission. You should obey the following steps to obtain an Italian Schengen visa in your hand.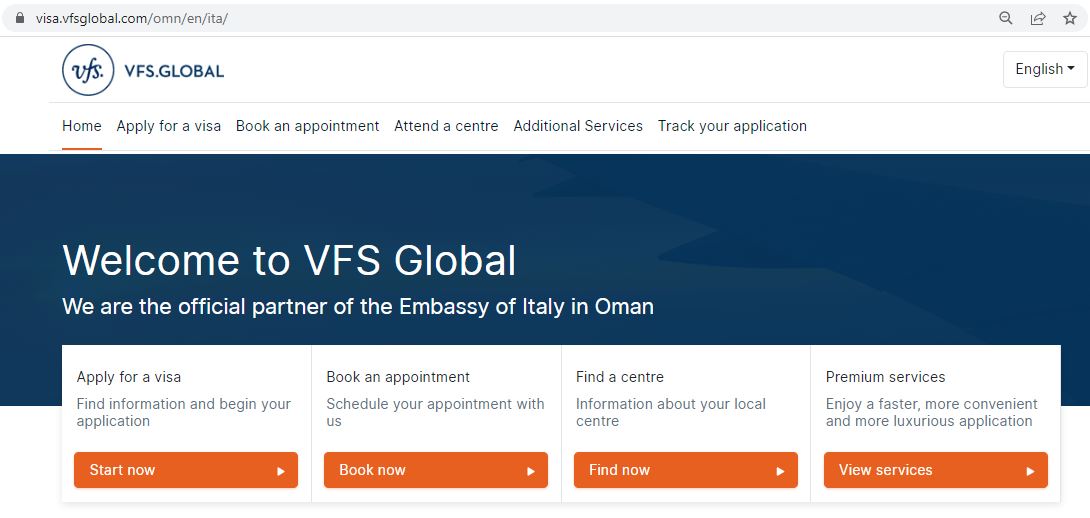 1) Select your visa type
First, you will select the visa type accordingly to your travel purpose and acquire the requirements against the specific type using this link. You will find the details like required documents, processing time, visa fees, photo requirements, etc.
2) Prepare your visa application
In this step, you will fill out the Italian visa e-application using this link. Once the filling is complete, take the print and sign it.

3) Book your visa appointment
Once your application has completed and you have all the required documents, you can book an appointment for an Italian visa using this link.
4) Pay your visa fees
You will need to pay visa fees on the appointment day. So, bring a significant amount in cash and pay at the visa application center. You will find the visa fees information table below.
5) Visit the visa application center
Now it's time to visit the VAC and submit the application in person. You should submit all required documents and fees along with the application submission.
6) Track your application
After the application submission, you can track your application using this link.
7) Collect your passport
After all processes, including Biometric data capturing and Rectifying the application, you will announce by the consulate regarding acceptance or rejection. After the decision, you will collect your passport in person from the VAC.
Italian Visa Application Fees from Oman
Here are the fees you should pay for applying Italian visa from Oman. These fees will pay in cash form by converting into the current exchange rate (in Omani Rial).
Schengen visa fee for 12+ years = 80 Euro / OMR 31.400/-
Schengen visa fee for children between 6-12 years = 40 Euro / OMR 15.700/-
Schengen visa fee for children 0-6 years = 0 EUR
VFS service fees = 11.30 Euro / OMR 4.940
Contact Italian Consulate General in Oman
If you have queries related to the application procedure or visa requirements, then you may contact to Italian Consulate General directly.
Address: Way 3034 – House n. 2697 – Shatti Al Qurum – P.O. Box 520 PC 115 Madinat Al Sultan Qaboos (Oman)
Email: visti.mascate@esteri.it
Phone:  0096824693727 / 0096824695131