Spending the holidays in the same place (Jordan) is boring. If you want to commute to the location and looking to visit Spain, then you are on the right page. As a Jordanian, you can fabricate this dream into reality by applying for a Spanish Schengen visa from Jordan. But having the application knowledge is not sufficient. You must know the tips and tricks for getting 100% Spanish visa approval from Jordan. Before starting the application, you have a solid grip on Spanish visa requirements and have a reasonable idea about the required documents and where to submit the application after preparation.
So, this article is a step-by-step guide for applying Spanish Schengen visa from Jordan. You can find the required documents that need to attach and where you can submit the application after completion. This document covers all aspects, from the selection of Spanish visa type to application submission, but you can achieve satisfactory results by following this article appropriately.
After an in-depth study of European Union Statistics, we must say the chances of obtaining a Spanish Schengen visa for Jordanians is 85%. The below table indicates the proof of several applications accepted every year from Jordan for a Spanish Schengen visa.
| | | | | | | | |
| --- | --- | --- | --- | --- | --- | --- | --- |
| Years | Schengen State | Country | Consulate | Number of Visa Applications | Visas Issued | Visas Denied | Not issued rate for uniform visas |
| 2020 | Spain | JORDAN | AMMAN | 961 | 578 | 171 | 22.15% |
| 2019 | Spain | JORDAN | AMMAN | 8,281 | 6,106 | 998 | 12.05% |
| 2018 | Spain | JORDAN | AMMAN | 7,680 | 6,055 | 1,009 | 13.14% |
Types of Spanish Schengen Visa from Jordan
Selection of the precise Spanish visa type is the first step for proceeding with the visa application. You can choose the visa type from below accordingly to your travel purpose.
Spanish Tourist Visa

Spanish Medical Visa

Spanish Airport Transit Visa

Spanish Study Visa (Long-Term)

Spanish Business Visa
You can investigate more regarding visa fees, required documents, processing time, and photo requirements of specified types using this link.
Required Documents for Applying Spanish Schengen Visa from Jordan
Here are the required documents that you should arrange before your visa appointment. Your Spanish visa acceptance mainly depends on the availability of the following required documents.
Spanish Schengen Visa Application Form: 

It should be duly filled and signed by the applicant. Please fill it out entirely in Block Letters.

Original Passport:

 Must be valid for more than three months from the intended date of the trip, not older than ten years. It must have two blank pages.

Copies of Previous Passports (if available)

1 Photograph: 

Take out the recent passport-size photo in the white background and 35×40 mm in size. Find more details regarding the Schengen visa photo here.

Travel Medical Insurance:

 It must support coverage of 30000 Euro and must cover all Schengen zone.

Cover Letter (if applicable):

 Explain why you are visiting Spain and provide additional details of your trip. You can find the best way to write a cover letter for a visa application here.

Proof of Professional Status: 

The letter has all details like employment status, salary package, and length of job contract. The professional status letter should attested by the chamber of commerce. Proof of trading licenses in the case of business. University/College acceptance letter for study.

Flight Itinerary: 

It must be with the departure and return dates and locations

. (round-trip)

Payment Receipts: 

Proof of payment slips for Schengen visa fees and BLS Spain service (JD 11.700 per application) should submit in advance.

Sponsorship Letter: 

Read how to write a Sponsorship letter for a visa application.

Proof of Residence: 

If you are non-Jordanian, you should submit a copy of an annual residence permit or work permit.

Hotel Booking:

 The genuine proof of accommodation after landing in Spain.
Invitation Letter: 

Should be

 

written by an individual or organization that is inviting you to Spain.

Proof of Sufficient Funds: 

3 months latest

 

bank and Credit card statements. You can get more details using this link.
No Objection Letter (NOC): 

Stated that your employer or institute has no objection to your leaving and mentioned when you join again.
You can find excessive knowledge regarding the required documents for a Spanish visa. You may consider this link for appropriate documentation and instructions.
What Are The Approved Insurance Companies for Applying Spanish Schengen Visa from Jordan?
As the Spanish consulate general in Amman follows the restricted approach to submit valid travel insurance with visa application and will accept the insurance policy from the following companies:
Step-by-Step Guide To Apply for Spanish Schengen Visa from Jordan
The following steps are gathered from BLS Spain International, as this is the most authentic source for applying Spanish visa from Jordan. Spanish consulate also recommended BLS International for proceeding with the applications and appointment bookings.
1) Know about visa type
First, you need to collect requirements concerning your selected visa type using this link. This link will help you to find the details like visa fees, processing time, picture specifications, etc. 
2) Book your appointment
After knowing about the visa requirements, you can book the visa appointment using this link.
3) Visit the BLS application center
Attend the appointment by visiting the application center and submitting your file in person. You may ask for visa fees at this step, so keep sufficient money in your pocket.
4) Track your visa application
If you would like to track the status of your application, you can use this link for tracking.
5) Collect your passport
After all processes, including Biometric data capturing and Rectifying the application, you will announce by the consulate regarding acceptance or rejection. After the decision, you will collect your passport from the BLS application center.
Spanish Schengen Visa Fees from Jordan
We define Schengen visa fees should be payable before visa application processing. It will vary without prior notice, and the application center may ask for divergent payments.
Schengen visa fee for 12+ years = 60.400 JOD
Schengen visa fee for children between 6-12 years = 30.200 JOD
Schengen visa fee for children 0-6 years = Free
BLS service charges = 11.70 JOD/application
Contact Spanish Consulate General in Jordan
You may contact the Spanish consulate if you have queries regarding your Spanish visa application or visa appointment.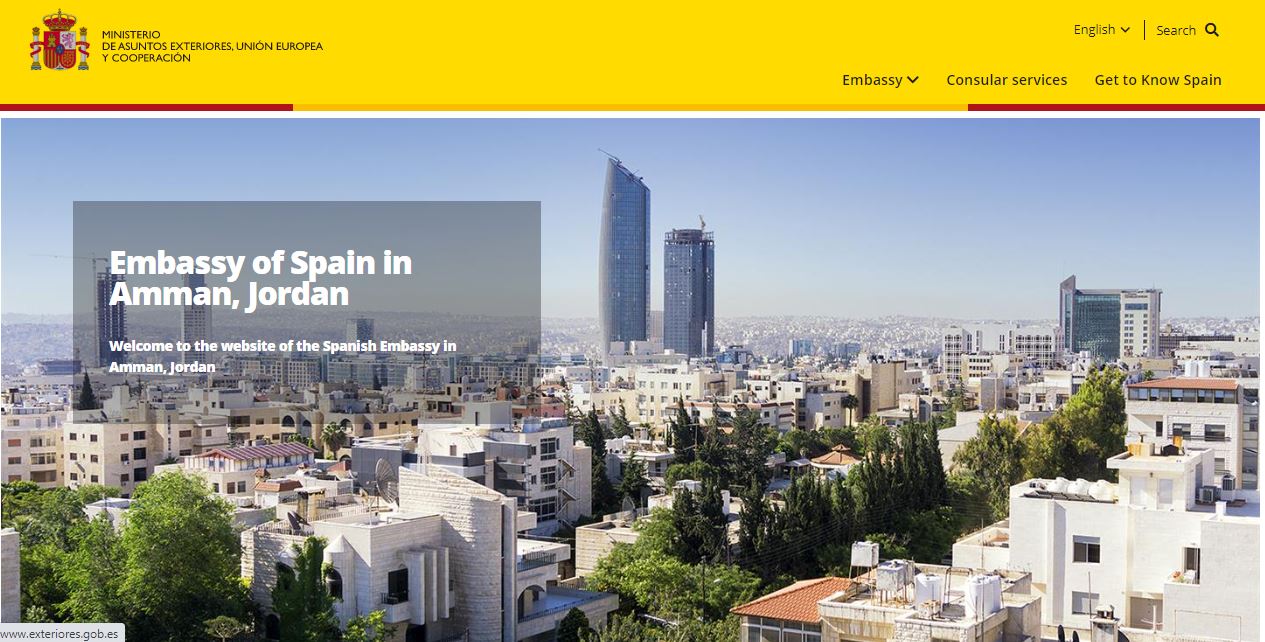 Address: EMBASSY OF SPAIN IN AMMAN Zahran Street 28, Amman P.O. Box 454 Amman 11.118, Jordan.
Email: emb.amman.vis@maec.es
Phone: 461 41 66/ 67/ 68/ 69