If you are living in İstanbul, İzmir, Ankara, Gaziantep, and Antalya and peeking for travel to Spain, then you need to acquire a Spanish Schengen visa from Turkey. It is mandatory to hold a Schengen visa for Turkish citizens to make Schengen zone entry possible. If you need a Schengen visa, you should apply at BLS Spain Visa Application Centre with all required documents and submit your Schengen visa application properly.
It is not possible to acquire a Schengen visa with an ambiguous application. This article manifests how to apply for a Spanish Schengen visa from Turkey, the Schengen visa fee, and what are the required documents for getting a Spanish Schengen visa from Turkey.
After an investigation of European Union statistics, we are transparently clear that the Spanish Schengen visa acceptance rate from Turkey is almost 90%. So, this is a substantial opportunity to apply for any Schengen state from Turkey. The only artifact to keep into mind is to petition Completely and accurately. 
| | | | | | | | |
| --- | --- | --- | --- | --- | --- | --- | --- |
| Years | Schengen State | Country | Consulate | Number of Visa Applications | Visas Issued | Visas Denied | Not issued rate for uniform visas |
| 2020 | Spain | TURKEY | ISTANBUL | 6,011 | 5,447 | 225 | 3.95% |
| 2020 | Spain | TURKEY | ISTANBUL | 28,153 | 26,707 | 947 | 3.36% |
| 2019 | Spain | TURKEY | ANKARA | 1,513 | 1,245 | 131 | 9.51% |
| 2019 | Spain | TURKEY | ANKARA | 8,452 | 7,324 | 642 | 7.60% |
Types of Spanish Schengen Visa from Turkey
Here is the list of the following Spanish visas. You can apply for anyone accordingly to your travel purpose.
Spanish Tourist Visa

Spanish Business Visa

Spanish EEA/EU visa

Spanish Visit Visa

Spanish Family & Friend Visa

Spanish Airport Transit Visa

Spanish Conference and Congress Visa

Spanish Student Visa
If you read more about Spanish visas from Turkey, you can find it on the following link.
Required Documents Checklist for Applying Spanish Schengen Visa From Turkey
If you are looking for success in acquiring a Spanish visa from Turkey, you need to arrange all the following documents before appearing visa interview.
Spanish Schengen Visa Application Form: 

download the application after filling online and keep it with other required documents.

Your Passport:

 Must be valid for three months after your Spain trip is completed, not older than ten years. It must have two blank pages.

Recent Passport Size Photographs: 

Two recent passport size pictures in color, 35×45 mm in size. Find more details regarding the Schengen visa photo from here.

Cover Letter (if applicable):

 Explain why you are visiting Spain and provide additional details of your trip. You can find the best way to write a cover letter for a visa application here.
Flight Reservation for Visa: 

It must be with the departure and return locations and dates

.

Travel Medical Insurance:

 It must support coverage of 30000 Euro and must cover all Schengen zone.   

Sponsorship Letter (If applicable): 

Read how to write a Sponsorship letter for a visa application.

Letter of Intent: 

created by the applicant that shows why you are moving to Spain.

Hotel Booking:

 The genuine proof of accommodation after landing in Spain.

Invitation Letter: 

Should be

 

written by an individual or organization that is inviting you to Spain.

Employment Letter:

 this letter will fabricate by the company that states your salary, job position, joining date, and when you come back from Spain for rejoining.

Employer Certificate of Registration to SGK

4A SGK Slips: 

covering from 1st day you stated till the last month.

Proof of Sufficient Funds:

 Latest 3 months bank and Credit card statements. You can get more details using this link.

Last 3 Months Salary Slips

Chamber of Commerce Registration: 

not more than 30 days

Copy of Bulletin of Trade Registration

Official Registration of Signature of The Company

Tax Chart (VERGI LEVHASI)

Marriage Certificate

Visa and Service Fees Payments Receipts
You can find the utter checklist of required documents for a Spanish Schengen visa from Turkey using this link.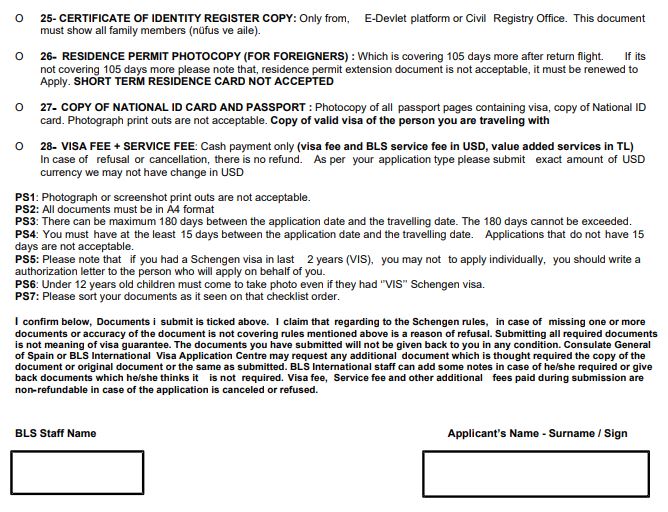 Absolute Steps for Applying Spanish Schengen Visa from Turkey
Here are the following steps to proceed with your visa application for a Spanish Schengen visa from Turkey. Please follow the steps orderly and adequately.
1) You need to recognize your visa type
First, please choose a visa type accordingly to your travel intent. You can find visa types using this link.
2) Fill out the application form and collect all required documents
After selecting the visa type, you need to fill out the Schengen visa application form and arrange all checklist of required documents before booking a visa appointment.
3) Book your visa appointment
Book a visa appointment once your application and required documents have arranged. You can book your appointment using this link.
4) Visit the visa application center
Visit the visa application center nearby your hometown, and attend a visa interview on the booked date. You can find the list of VAC using this link.
5) Track your visa application
After submitting a Spanish visa application, you can track your application using this link.
6) Collect your passport & documents
After all processes, including Biometric data capturing and Rectifying the application, you will announce by the embassy regarding acceptance or rejection. After the decision, you will collect your visa in person from the Spanish consulate in Turkey.
Spanish Schengen Visa Application Fees from Turkey
There are the following fees you need to pay for applying Schengen visa from Turkey:
Tourist visa fee = 90 USD
Children between 6-12 years = 45 USD
Children 0-6 years = No fee
17 USD per application over and above the visa fees payable by all applicants
Contact Spanish Consulate General in Turkey
You can contact to Spanish consulate general concerning the country/city:
Spanish Visa Application Center – Istanbul:
Address: Yesilce Mah., Diken Sk. No:2,
34418 Kagıthane/Istanbul
Email: info.tr@blshelpline.com
Phone: +90 212 279 3831
Spanish Visa Application Center – Izmir:
Address: Origin Offices, Kazimdirik Mah, 296/1
Sok No 28, Bornova, 35100
Email: info.tr@blshelpline.com
Phone: +90 212 279 3831
Spanish Visa Application Center – Antalya:
Address: Yeşilbahçe Mah. 1471 Sk. Özgür Apt. No: 12/C Muratpaşa Antalya
Email: info.tr@blshelpline.com
Phone: +90 212 279 3831
Spanish Visa Application Center – Ankara(Turkey):
Address: Güvenevler Mahallesi Alaçam Sk. No: 9 Çankaya Ankara
Email: info.tr@blshelpline.com
Phone: +90 212 279 3831
Spanish Visa Application Center – Gaziantep:
Address: Değirmiçem Mah. Mithat Enç Cad. No: 12/A
Şehitkamil Gaziantep
Email: info.tr@blshelpline.com
Phone: +90 212 279 3831