If you are Kenyan and intend to travel to France, you should need to apply for a French Schengen visa from Kenya. The main problem starts here because applicants apply for a French visa without appropriate knowledge, and the results will come out with rejection. But after the comprehensive interpretation of this article, rejection will no more participate, and you can apply for a French visa from Kenya without any consultant or expert. 
In this composition, we describe the complete procedure for applying for a French Schengen visa from Kenya, a list of required documents, and where you can submit your French visa application. We collect the following information from the French consulate, and the proper reliability and accompany of this artifact will succeed you in getting a French Schengen visa from Kenya.
Moreover, after the in-depth review of European Union Statistics, we want to put the consequence in front of viewers that the rate of French visa acceptance from Kenya is above 80%. If you are interested in France visit, then the chance to get a French visa from Kenya is high, but the application submission will be correct and decently.
| | | | | | | | |
| --- | --- | --- | --- | --- | --- | --- | --- |
| Years | Schengen State | Country | Consulate | Number of Visa Applications | Visas Issued | Visas Denied | Not issued rate for uniform visas |
| 2020 | France | KENYA | NAIROBI | 834 | 739 | 39 | 4.89% |
| 2019 | France | KENYA | NAIROBI | 4,806 | 4,425 | 261 | 5.43% |
| 2018 | France | KENYA | NAIROBI | 5,059 | 4,647 | 310 | 6.13% |
Types of French Schengen Visa from Kenya:
We present the list of the most commonly used French visa types. Choose anyone according to your travel purpose. After the selection, please arrange the required documents respectively.
French Airport Transit Visa

French Visit/Tourist Visa

French Family Visit Visa

French Medical Purpose Visa

French Student Visa

French Business Visa

French Work-Self Employment visa
If you want more information concerning French visa types, we suggest reading more using this link.
Required Documents for Applying French Schengen Visa from Kenya
These are the required documents that you should arrange before your visa appointment. Please take this part most important because negligence against the provided documents leads to your visa denial.
French Schengen Visa Online Application: 

Fill out the online French visa application form, and keep it with other required documents.

Your Passport:

 Must be valid for more than three months from the intended date of the trip, not older than ten years. It must have two blank pages.

Copies of Previous Passports (if available)

Photographs: 

Two recent passport-size pictures in color, 35×40 mm in size. Find more details regarding the Schengen visa photo here.

Cover Letter (if applicable):

 Explain why you are visiting France and provide additional details of your trip. You can find the best way to write a cover letter for a visa application here.
Flight Reservation:

It must be with the departure and return dates and locations

. 

Socio-Professional Situation:

Submit proof of your professional status, like an employment certificate, school enrollment letter, and marriage certificate.

Travel Medical Insurance:

 It must support coverage of 30000 Euro and must cover all Schengen zone.   

Sponsorship Letter (If applicable): 

Read how to write a Sponsorship letter for a visa application.

Hotel Booking:

 The genuine proof of accommodation after landing in France.

Residence Permit: 

Proof of residency in Kenya (for foreigners only).

Invitation Letter: 

Should be

 

written by an individual or organization that is inviting you to France.

Proof of Sufficient Funds:

 Show 3 months Bank and Credit card latest statements. You can get more details using this link.
No Objection Letter (NOC): 

Stated that your employer or institute has no objection to your leaving and mentioned when you join again.
Read more facts regarding the required documents from the French consulate webpage link.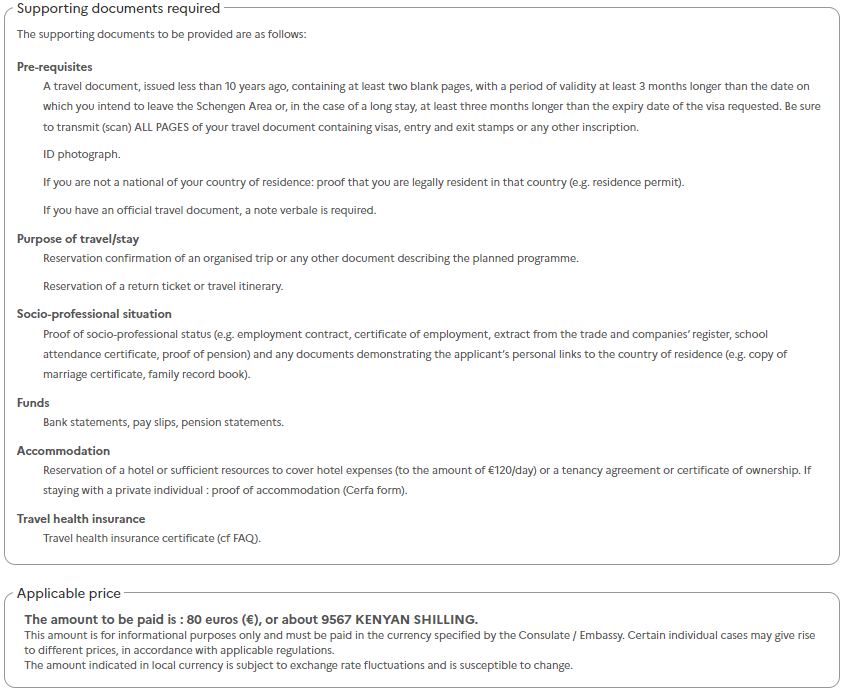 Exclusive Procedure for Apply French Schengen Visa from Kenya
Here are the step-by-step guidelines for applying French Schengen visa from Kenya. If you are looking for assured visa acceptance, please follow the instructions thoroughgoing.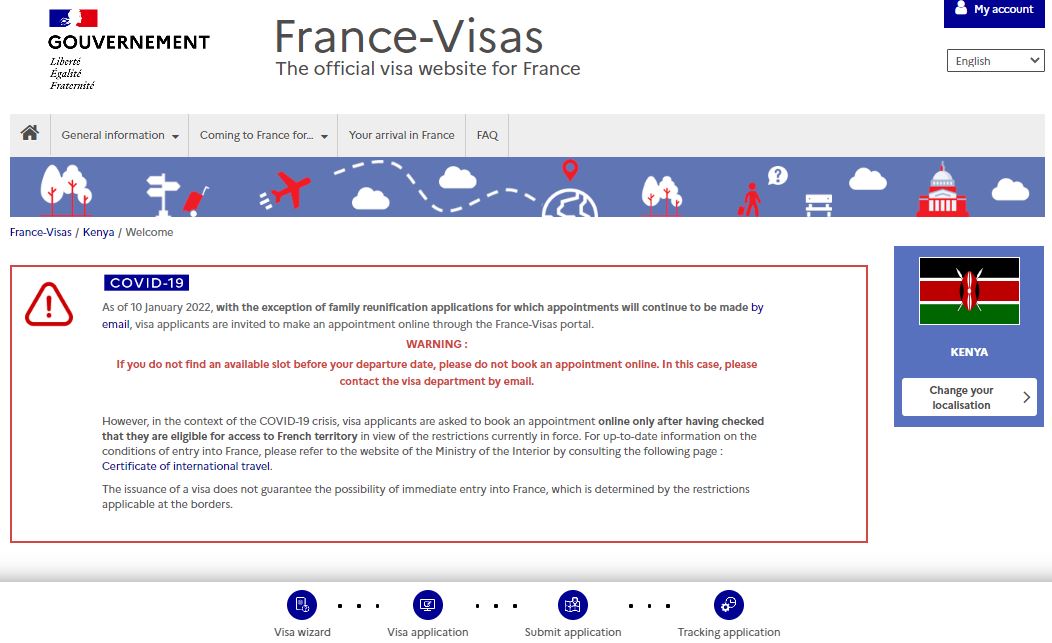 1) Collect visa information
First, you need to drive a visa wizard because it will help you to discover the requirements like required documents, processing time, and visa fee.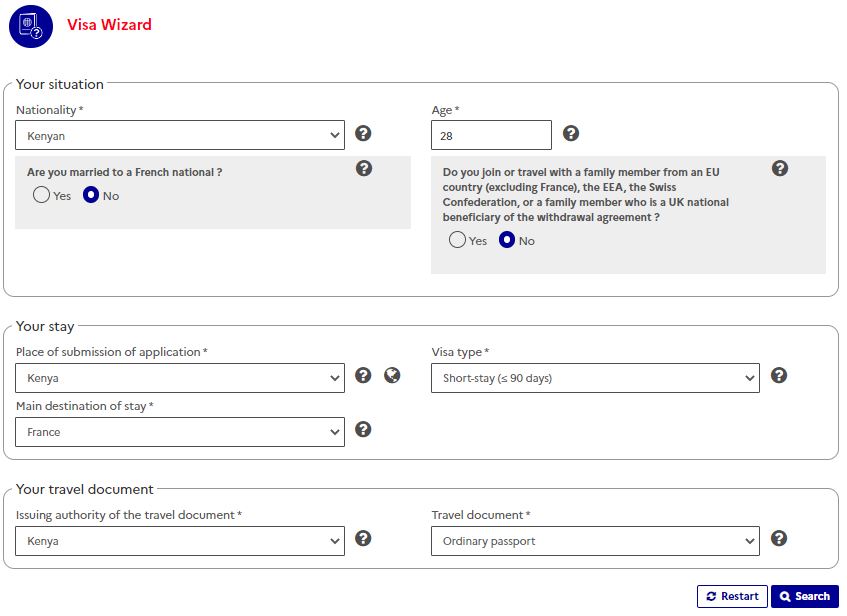 2) Fill the online visa application form
Once you have collected the knowledge regarding a specific visa, now time to fill out an online application for a French visa and take a print of it. You can fill online application using this link.
3) Book your visa appointment
After completing the application form and arranging all required documents, you may book visa appointments at a French consulate in Kenya using this link.
4) Submit your visa application
Attend a visa interview and submit your French visa application in person. Visit the same consulate where you booked the appointment on the same date.
5) Track your visa application
After submission of your French visa application, you can track it using this link.
6) Collect your passport
After all processes, including Biometric data capturing and Rectifying the application, you will announce by the French consulate regarding acceptance or rejection. After the decision, you will collect your passport in person from the VAC.
French Schengen Visa Application Fee from Kenya
Here is the chart for French Schengen visa fees that you should pay online or before an interview in person.
Schengen visa fee for 12+ years = 80 Euros
Schengen visa fee for children between 6-12 years = 40 Euros
Schengen visa fee for children 0-6 years = 0 Euros
You can get more information regarding the Schengen visa fee for the French visa using this link.
Contact French Consulate In Nairobi, Kenya.
You may contact the French consulate general if you have queries regarding your French visa application or visa interview.
Address: Peponi Gardens, off Peponi Road
Westlands P.O Box 41784 Nairobi, Kenya
Email: visas.nairobi-amba@diplomatie.gouv.fr
Phone: (+254) 20 760 55 55