After accumulating numerous acceptance reports from our top Notch Article regarding the application procedure for an Italian visa from Morocco, we offer a step-by-step approach concerning the stratagem for applying Spanish Schengen visa from Morocco. We are revealing this article about Moroccans and non-Moroccans who want to apply Spanish Schengen visa and glance for directions that can assist regarding the whole processing from start to end without any fear of getting visa rejection.
Therefore, this document is the outright source for applying Spanish Schengen visa from Morocco, about the required documents you will attach and where to submit the visa application after the completion. You can submit your file to near located Spanish consulate. You will find the Spanish consulate in Tanger, Casablanca, Rabat, Nador, Tetouan, and Agadir.
According to the Statistics of the European Union, the Spanish Consulates of Morocco received many applications yearly, and almost 75% of applicants got visas without any obligations. So, here is the opportunity for a high success rate if you submit the file and documents appropriately by following this article correctly.
| | | | | | | | |
| --- | --- | --- | --- | --- | --- | --- | --- |
| Years | Schengen State | Country | Consulate | Number of Visa Applications | Visas Issued | Visas Denied | Not issued rate for uniform visas |
| 2020 | Spain | MOROCCO | CASABLANCA | 13,636 | 12,121 | 1,250 | 9.32% |
| 2019 | Spain | MOROCCO | RABAT | 23,517 | 16,395 | 5,718 | 24.31% |
| 2018 | Spain | MOROCCO | AGADIR | 11,028 | 7,973 | 2,515 | 22.81% |
Types of Spanish Schengen Visa from Morocco
Choosing the visa type is the first step for moving your application because you will gather the requirements accordingly to the selected visa type. You can pick any visa type from the following concerning your travel purpose. You can apply for the below categories under the primary Schengen visa type.
Spanish Tourist Visa

Spanish Medical Visa

Spanish Family & EU Citizen Visa

Spanish Airport Transit Visa

Spanish Study Visa

Spanish Work Visa

Spanish Business Visa

Spanish Family Re-unification Visa
You can retrieve more guidance about required documents, visa fees, processing time, and other requirements of specific visa types from this link.
Required Documents for Applying Spanish Schengen Visa from Morocco
The attachment of the required documents is mandatory for submitting the visa application. If you do not collect these documents before the appointment booking, you are impotent to submit the application to the diplomatic office/consulate.
2 Spanish Visa Application Forms: 

They should duly fill and sign by the applicant (Spanish Version). Please fill it out completely to protect your application from rejection.

Original Passport:

 Must be valid for more than three months from the intended date of the trip, not older than ten years. It must have two blank pages.

Copies of Previous Passports (if available)

2 Photographs: 

Take out the recent passport-size photo in the white background and 35×40 mm in size. Find more details regarding the Schengen visa photo here.

Travel Medical Insurance:

 It must support coverage of 30000 Euro and cover all Schengen zone.

Cover Letter (if applicable):

 Explain why you are visiting Spain and provide additional. You can find the best way to write a cover letter for a visa application here.
Flight Reservation (round-trip): 

It must be with the departure and return dates and locations

. 

Sponsorship Letter: 

Read how to write a Sponsorship letter for a visa application.

Proof of Residence: 

If you are non-Moroccan, you should submit a copy of your residence visa or work permit. Your permit should be valid for three months before applying.

Hotel Booking:

 The genuine proof of accommodation after landing in Spain.
Invitation Letter: 

Should be

 

written by an individual or organization that is inviting you to Spain.

Proof of Sufficient Funds: 

3 months latest

 

bank and Credit card statements. You can get more details using this link.

No Objection Letter (NOC): 

Stated that your employer or institute has no objection to your leaving and mentioned when you join again.
You can check the updated list of required documents before start collecting the documents using this link.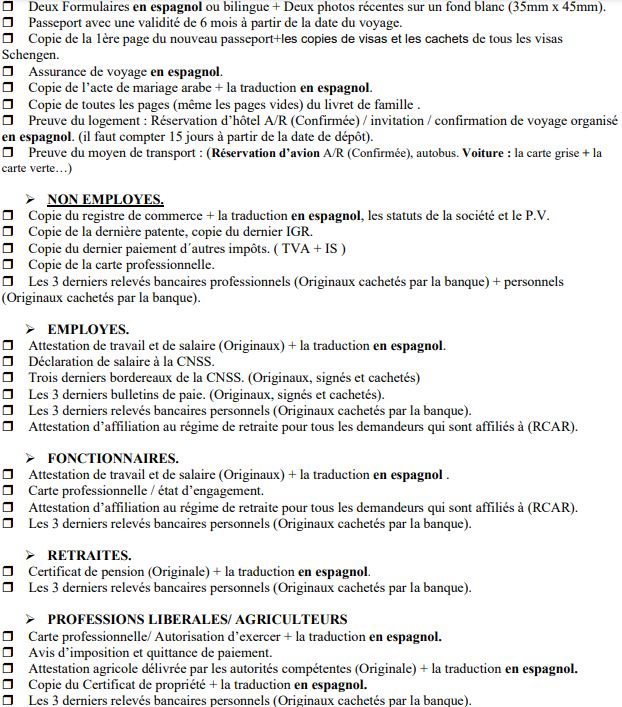 Step-by-Step Guide to Apply Spanish Schengen Visa from Morocco
According to Spanish Consulate, BLS-Spain is the only official origin we can use for submitting a visa application from Morocco. So, we derived the steps from BLS so that your application should consider by Spanish Embassy and approved without any objections.
1) Collect your visa requirements
First, choose the appropriate visa type according to your travel purpose. You can gather the requirements of your picked visa type using this link. Under the given reference, you will find information like required documents, processing time, visa fees, and phone requirements.
2) Prepare your visa application
After knowing the requirements, let's begin the Schengen visa application filling and collect all required documents, a checklist of required documents mentioned above.
3) Book your visa appointment
After getting all documents and completing the application, you can book an appointment using this link.
4) Submit your visa file
Visit the nearest BLS-Spain visa collection center and submit your file in person. You should submit the file on the booked date of your appointment.
5) Track your visa application
Once your visa application is submitted, you can track your application status using this link.
6) Collect your passport
After all processes, including Biometric data capturing and Rectifying the application, you will announce by the consulate regarding acceptance or rejection. After the decision, you will collect your passport from the BLS application center.
Spanish Schengen Visa Fees from Morocco
The below Schengen visa fees will charge to you accordingly to the current EURO exchange rate of your applying country. The submitted fees will not be refundable.
Schengen visa fee for 12+ years = 881 MAD
Schengen visa fee for children between 6-12 years = 440 MAD
Schengen visa fee for children 0-6 years = No Fee
Spanish Consulate General in Rabat, Morocco
You may contact the Spanish Consulate General directly if you have queries regarding your visa application and the application procedure.
Address: Av. Mohamed VI – Km 5,3, Av. Ain Khalouiya, Rabat 10000, Morocco
Phone: +212 5376-33900