After receiving a positive reaction from the applicants who had applied for a Schengen visa for Italy and Spain from Pakistan by following the latest published articles, we have decided to initiate another artifact that will provide a step-by-step procedure to apply for a German Schengen visa from Pakistan. The ultimate impetus for writing this article is to educate Pakistanis regarding the finest method to declare the basic requirements for a German visa application and the documentation they will attach.
This document is the step-by-step solution for applying German Schengen visa from Pakistan, expressing the checklist of required documents and where to submit a visa application after construction. Moreover, we decorated this paper for Pakistani and non-Pakistani (foreign nationals living in Pakistan) can apply for a Germany visa by heeding this article from start to end.
According to the statistics of the European Union, the German consulate of Islamabad and Karachi received thousands of applications yearly, and almost 75% of them had gotten a German Schengen visa from Pakistan. Embassies proclaim that inappropriate and incomplete application is the leading reason for such a large number of rejections. So, if you submit an accurate & thorough application, then you have a substantial opportunity to acquire a German visa from Pakistan.
| | | | | | | | |
| --- | --- | --- | --- | --- | --- | --- | --- |
| Years | Schengen State | Country | Consulate | Number of Visa Applications | Visas Issued | Visas Denied | Not issued rate for uniform visas |
| 2020 | Germany | PAKISTAN | ISLAMABAD | 2,556 | 1,383 | 1,158 | 45.31% |
| 2019 | Germany | PAKISTAN | KARACHI | 10,797 | 8,562 | 2,205 | 20.42% |
| 2018 | Germany | PAKISTAN | ISLAMABAD | 9,229 | 6,784 | 2,404 | 26.05% |
Types of German Schengen Visa from Pakistan
Selection of the visa type is a salient step for starting a German visa application because the German foreign office stringently follows the appointment system, and you can only book the appointment accordingly to your visa type. So, for appointment booking, you will choose a visa type from the following list according to your travel purpose.
German Medical Treatment Visa

German Family Reunion or Marriage Visa (long-term)

German Work Visa
You can get information like required documents, visa fees, and how to apply for a specific visa type from this link.
Required Documents for Applying German Schengen Visa from Pakistan
Your application without the required documents would not be acceptable. Moreover, the diplomatic office will not take your application if you have missing required documents. So arrange the following documents before booking the appointment and keep them along during the interview.
German Schengen Visa Application Form: 

It should duly fill and sign by the applicant. Please fill it out completely to protect your application from rejection.

Original Passport:

 Must be valid for more than three months from the intended date of the trip, not older than ten years. It must have two blank pages.

Copies of Previous Passports (if available)

2 Photographs: 

Take out the recent passport-size photo in the white background and 35×40 mm in size. Find more details regarding the Schengen visa photo here.

Travel Medical Insurance:

 It must support coverage of 30000 Euro and cover all Schengen zone. Here are some companies you can use for getting an Insurance Policy.

Appointment Email Copy: 

Take a print of the email which you received after the appointment booking.

Cover Letter (if applicable):

 Explain why you are visiting Germany and provide additional. You can find the best way to write a cover letter for a visa application here.

Copies of All Visa Rejections (if available)

Flight Reservation (round-trip): 

It must be with the departure and return dates and locations

. 

Sponsorship Letter: 

Read how to write a Sponsorship letter for a visa application.

Proof of Residence: 

If you are non-Pakistani, you should submit a copy of your residence visa or work permit. Your permit should be valid for three months before applying.

Hotel Booking:

 The genuine proof of accommodation after landing in Germany.

Family Registration Certificate: 

The FRC has issued by NADRA and should be verifiable.
Invitation Letter: 

Should be

 

written by an individual or organization who will invite you to Germany.

Proof of Sufficient Funds: 

3 months latest

 

bank and Credit card statements. You can get more details using this link.

Security Declaration:

 You can find the declaration form using this link.
No Objection Letter (NOC): 

Stated that your employer or institute has no objection to your leaving and mentioned when you join again.
You can verify the updated list before arranging the required documents using this link.
Step-by-Step Guide for Applying German Visa from Pakistan
Use the following steps sequentially for submitting your application to German Embassy. You need to meet the requirements mentioned under each step appropriately. Otherwise, you will accumulate a delay or visa denial.
1) Find your visa requirements
First, you will select the visa type and track the requirements concerning required documents, visa fees, processing time, and other information from this link.
2) Prepare your visa application
After knowing the basic requirements start preparing your German visa application and arrange all required documents. You might need to obtain documents before the application filling because you will add details accordingly.
3) Book your visa appointment
Once you have assembled your application, now is the time to book an appointment using this link. Again you will have the required documents before applying for an appointment booking.
4) Submit your visa application
Now is the time to visit the Embassy and attend the appointment on the booked date in person. You will ask for file submission, so keep all required documents with the application. Also, carry the Schengen visa fees with you because you need to submit the fees before applying.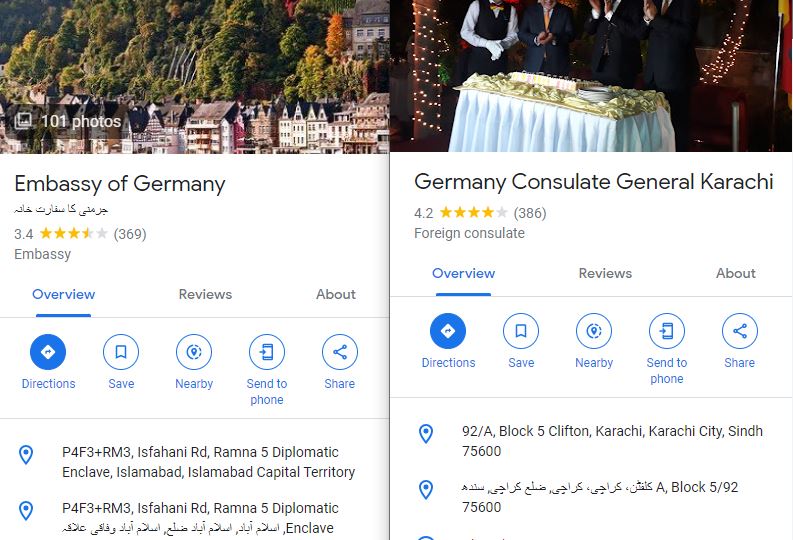 5) Collect your passport
After all processes, including Biometric data capturing and Rectifying the application, you will announce by the consulate regarding acceptance or rejection. After the decision, you will collect your passport from the German Embassy.
German Visa Fees from Pakistan
The following Schengen visa fees you should pay before starting visa processing. The following fees have mentioned in EURO, and you need to convert them into your country's currency exchange rate.
Schengen visa fee for 12+ years = 80 Euro
Schengen visa fee for children between 6-12 years = 40 Euro
Schengen visa fee for children 0-6 years = No Fee
German Consulate General in Islamabad, Pakistan
You may contact the German Consulate General directly if you have queries regarding your visa application and the application procedure.
Address: Ramna 5, Diplomatic Enclave, Islamabad
Phone: +92 51 227 9430 – 35
Email: Contact-Form