After reviewing the demography of French Consulates in Casablanca, Agadir, Fes, Marrakech, Rabat, and Tanger, we found a 30-40% rejection rate for Moroccan applicants. The ground of these denials is an inaccurate application and attaching of fallacious required documents. On the other hand, the Moroccans who wanted to apply for Spain and Italy got benefits (improvement in rejection rate and more visa acceptance) from our written articles concerning how to apply for Spanish and Italian Schengen visas from Morocco. Thus we decided to set down a document that would provide a step-by-step solution to elaborate a procedure to apply French Schengen visa from Morocco and will increase the ratio of French visa approval for Moroccans.
So, this article will assist with ultimate information regarding how to apply French Schengen visa from Morocco, the gathering of required documents, and where to submit the visa application after devising. Moreover, this indenture has prepared according to the requirements of Moroccans and non-Moroccans, so both will apply by following the instructions and will put their name under the visa approval list. 
According to the Statistics of the European Union, the rate of French visa approval from Morocco is practicable, which means if your submission of the application with the appropriate required documents and the provided details will find satisfactory by the diplomatic office, then you have higher chances to obtain French Schengen visa from Morocco.
| | | | | | | | |
| --- | --- | --- | --- | --- | --- | --- | --- |
| Years | Schengen State | Country | Consulate | Number of Visa Applications | Visas Issued | Visas Denied | Not issued rate for uniform visas |
| 2020 | France | MOROCCO | CASABLANCA | 28,161 | 24,882 | 2,525 | 9.21% |
| 2019 | France | MOROCCO | RABAT | 79,824 | 72,372 | 6,540 | 8.19% |
| 2018 | France | MOROCCO | AGADIR | 33,463 | 23,426 | 10,000 | 29.88% |
Types of French Schengen Visa from Morocco
Choosing the visa type is an initial significant step because knowing of visa type would help you to gather the requirements accordingly. You may pick any visa type from below based on your trip purpose.
French Transit Visa

French Job Search Visa

French Employment Visa

French Adoption Visa

French Volunteering Visa

French Medical Visa
You can get more facts regarding the requirements of the selected visa type using this link.
Required Documents for Applying French Schengen Visa from Morocco
Attaching the required documents is a compulsory requirement for submitting the visa application. If your application has missed any paper from the following checklist, then your application might not be acceptable to the diplomatic official.
Online French Schengen Visa Application: 

Fill out the online French visa application form, and keep it with other required documents.

Your Passport:

 Must be valid for more than three months from the intended date of the trip, not older than ten years. It must have two blank pages.

Copies of Previous Passports (if available)

Photographs: 

Two recent passport-size pictures in color. 35×40 mm in size. Find more details regarding the Schengen visa photo here.

Cover Letter (if applicable):

 Explain why you are visiting France and additional details regarding your journey. You can find the best way to write a cover letter for a visa application here.

Proof of Residency: 

You must submit proof of residency if you are a non-national of Morocco. The document would be a residence permit and should be valid for three months before intending travel.

Flight Itinerary (Round-Trip): 

It must be with the departure and return dates and locations

. 

Travel Medical Insurance:

 It must support coverage of 30000 Euro and cover all Schengen zone.   

Sponsorship Letter (If applicable): 

You can find the best way to write a Sponsorship letter for a visa application using this link.

Socio-Professional Status: 

Proof of evidence to have a proper job in Morocco with a signed contract letter (including all details like salary package, name, and date of joining), business trading letter (if you own a business), and admission letter (in case of study). You may submit proof of personal links like a marriage certificate or family record book.

Hotel Booking:

 The genuine proof of accommodation after landing in France.

Proof of Sufficient Funds:

 Proof of adequate funds with the latest three months bank statements. You can get more details using this link.
Invitation Letter: 

Should be

 

written by an individual or organization inviting you to France.

No Objection Letter (NOC): 

Stated that your employer or institute has no objection to your leaving and mentioned when you join again.
You can find out the updated required documents checklist before arranging from this link.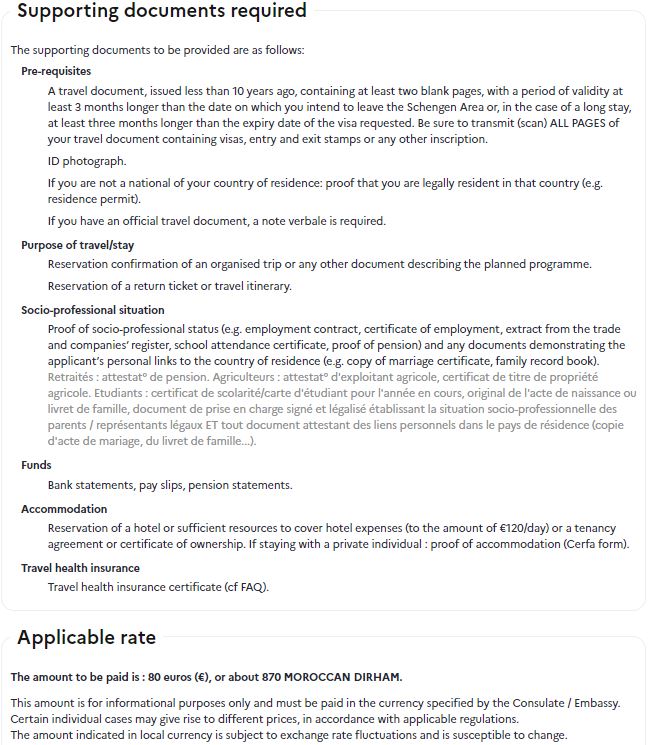 Step-by-Step Solution for Applying French Schengen Visa from Morocco
Here is the sequence for the submission of a flawless application. You should obey these steps properly because perfect heed will save you from unlimited correction and waste of long visa processing time.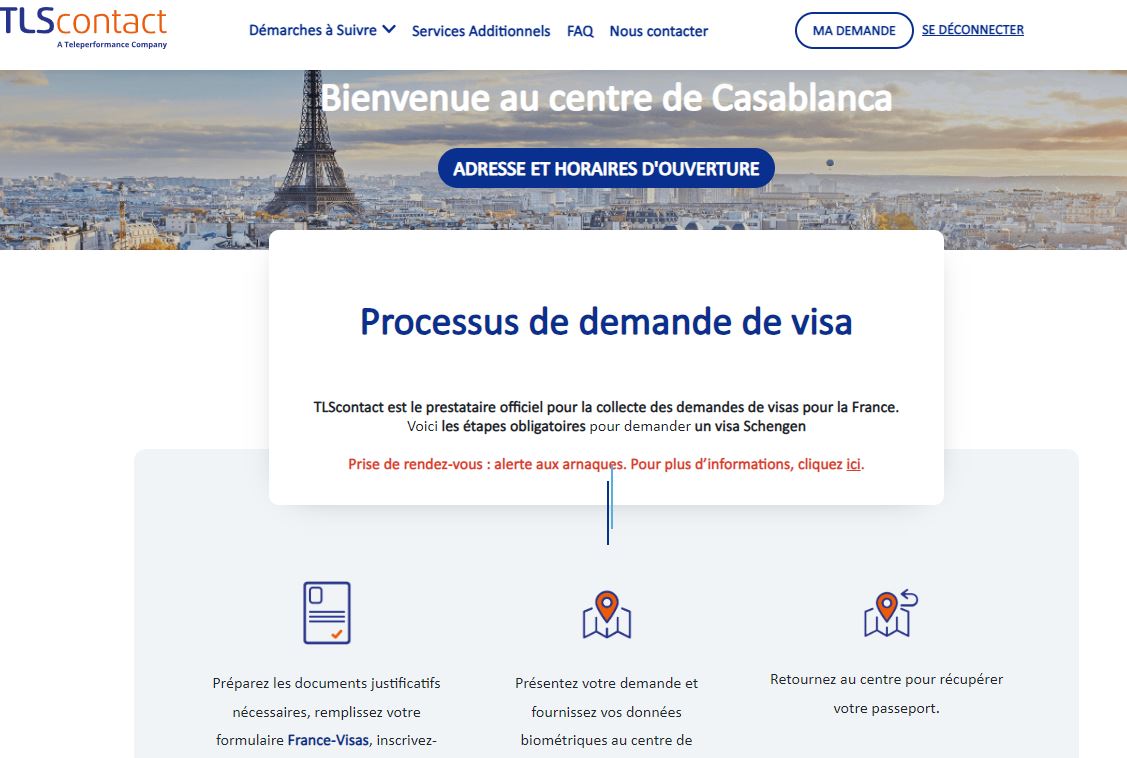 1) Find out visa requirements
Execute the Visa Wizard to achieve visa requirements concerning your applying country. The Wizard will help you to detect specific requirements like required documents, visa fees, etc.
2) Prepare your visa application
When you retrieve the requirements, afterward start filling online visa application using this link. You will also begin the collection of required documents at this step.
3) Book your visa appointment
Once you completed the visa application and the required documents compilation, now the time for appointment booking form TLS-Contact using this link.
4) Submit your visa application
Now visit the TLS French visa collection center for which you had booked the appointment and submit your file in person. You can find the TLS collection centers list from this link.
5) Collect your passport
After all processes, including Biometric data apprehending and Rectifying the application, you will announce by the French consulate regarding acceptance or rejection. After the decision, you will collect your passport in person from the applied TLS-Contact visa collection center.
French Schengen Visa Application Fees from Morocco
You should pay the following Schengen visa processing fees regarding the visa type and age category. These fees are non-refundable and would calculate with the current EURO exchange rate of the home country.
Schengen visa fee for 12+ years = 80 Euros
Schengen visa fee for children between 6-12 years = 40 Euros
Schengen visa fee for children 0-6 years = 0 Euros
You will obtain detailed Schengen visa fees from this link.
French Consulate General in Casablanca, Morocco
You may contact the French Consulate General of Casablanca concerning queries regarding visa application requirements and a visa appointment.
Address: 1, rue du Prince Moulay Abdallah
20000 Casablanca
Phone: 00 212 (0)5 22 48 93 00
Email: visas.casablanca-fslt@diplomatie.gouv.fr